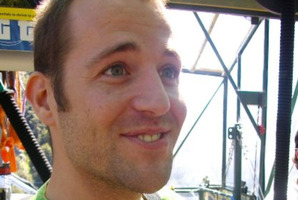 A Christchurch man was on life support last night in Thailand after falling from a fourth-storey balcony as he tried to get into an apartment he had locked himself out of.
Robbie Robinson, 32, suffered life-threatening head injuries when he fell 14 days ago.
Ireland's Evening Herald reported that Mr Robinson had been out socialising with friends in Bangkok and arrived back at the fourth floor apartment where he was staying but did not have his keys.
He attempted to climb up to the apartment's balcony, but lost his footing and fell.
Mr Robinson's family, including his sister Kim who lives in Queenstown, have rushed to his bedside in Thailand.
Born in Ireland, Mr Robinson emigrated to Christchurch a few years ago. He returned to his hometown of Ashford, south of Dublin in County Wicklow, last month for a friend's wedding.
He stopped in Thailand on his way home to Christchurch to see another friend, and had been in Bangkok only three days when the accident happened.
Just a week before, British man Tom Stilwell survived a similar fall from a balcony in central Auckland.
Mr Stilwell returned home from a night drinking with friends and discovered he was locked out of his apartment on the 14th floor of the Volt building on Queen Street.
At 2am he woke Geraldine Bautista, who lives directly above him on the 15th floor, and tried to lower himself from her balcony down on to his own.
Seconds into the attempt, he fell 13 floors and landed on the roof of an adjacent building.
Mr Stilwell suffered broken bones but has already been discharged from hospital and was spotted walking around Auckland earlier this week.
Mr Robinson may not be so lucky. A friend of the family told the Evening Herald: "Robbie's injuries are so severe, there is a chance he will suffer permanent damage.
"The family are at their wits' end and are fearing the worst. They are just praying for a miracle at this stage. They are such a close-knit family. It's beyond belief what they're going through."
The family are being supported by the Irish Embassy and a vigil was held for Mr Robinson at St Fergal's Church in Ashford.
"A large number of his family attended the service ... to pray for Robbie," said Father Larry Behan.