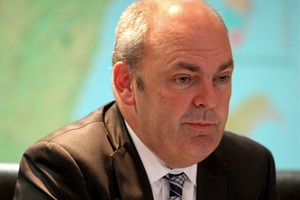 A hardline Government policy to recoup student loan debt by arresting serious defaulters at the border has proved popular in a Herald-DigiPoll survey.
The policy of arresting the most non-compliant borrowers was introduced in Budget 2013 as part of greater efforts to claw back money from overseas-based ex-students, who were responsible for most of the $500 million in default.
Asked whether they agreed with a Government proposal to arrest the worst defaulters on student loans at the border when they tried to re-enter the country, 56.8 per cent of respondents agreed and 39.6 per cent disagreed.
Tertiary Education Minister Steven Joyce said the poll was in line with expectations. He said the policy was designed to target borrowers who were repeatedly asked to repay their loans but refused to do so.
"Overseas-based borrowers are continuing to let the side down ... It's not fair for those overseas to get a far easier ride than people who stay in New Zealand, contribute here, and pay off their loan responsibly."
Inland Revenue figures showed that overseas-based borrowers made up 60 per cent of the 85,000 borrowers in default in March, despite only making up 15 per cent of the borrowing population.
The border arrest policy was already used on people who defaulted on child support payments.
Within four days of the Budget announcement - which also raised the required rate of payment and introduced new tools to track overseas borrowers more easily - around 350 ex-students had contacted Inland Revenue, some to restart payments.
But student unions were concerned that if measures became too punitive it would discourage graduates from returning home or from even taking up study.
Labour tertiary education spokeswoman Megan Woods said she was not surprised by the poll result because people's first reaction was that if students borrowed money, they should pay it back. But she stressed it was the effectiveness of the policy, not its popularity, which should be scrutinised.
"You do need to think about a bit of carrot with the stick," she said.
The New Zealand Students Association has criticised using a policy of fear rather than making the payment system more intuitive, saying that it could drive graduates away.
Mr Joyce released figures yesterday showing enrolment numbers in tertiary institutions had dropped nearly 2 per cent in the past year.
Overall, post-graduate enrolments remained steady with a tiny increase in Masters enrolments and a slight decrease in doctoral enrolments.