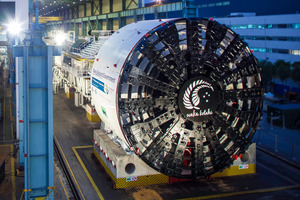 One of the world's largest tunnelling boring machine is on its way to Auckland to construct the city's Waterview Connection tunnels.
The machine left Guangzhou in southeast China yesterday and is due to arrive at the Ports of Auckland's Waitemata terminal in two and a half weeks.
The machine has been broken down into 97 separate pieces, including 20 containers of small parts. It will be reassembled at the bottom of a 30 metre-deep trench in Owairaka before boring the twin 2.4km-long Waterview motorway tunnels.
When the machine has landed, it will be trucked to Owairaka over a 10-day period. Some of the 97 loads will be oversize, and the New Zealand Transport Agency says they will be moved overnight to minimise disruption to traffic.
The heaviest load will be the 260-tonne main drive for the cutting head and the largest will be the machine's 8.5 metre diameter main bearing.
The machine will be reassembled with its massive cutting head facing north - the direction it will go when tunnelling starts at the end of October.
The re-assembly will take a team of 30 about three months to complete. The machine was factory tested in March before being stripped down and packed ready for its voyage to Auckland.
It is the largest machine ever built for use in Australasia, and has been designed specifically for the local geology. The cutting head and shield at the front are as high as a four-storey building.
It is 87m long, almost the length of a rugby field. It comprises a 14.4m diameter rotating cutting head attached to the front of a 12m shield, followed by three back-up cars, or gantries, that house all the equipment needed to operate it, remove excavated material and put in place the precast concrete rings that will line the tunnels.
``Delivery and assembly of the machine will be complex - the start of a construction process that will lift the development of New Zealand's transport infrastructure to a whole new level,'' Transport Agency spokesman Tommy Parker said.
The $1.4 billion connection will link the Northwestern (SH16) and Southwestern (SH20) motorways to complete the Western Ring Route, one of the Government's economically strategic roads of national importance.
``We are planning to have traffic using the tunnels by the end of 2016, which will give Auckland the connected and cohesive motorway system it needs to support growth in the region, and to improve links between our neighbours in Northland and in Waikato/Bay of Plenty. It will be as important a catalyst for change as the opening of the harbour bridge was in 1959,'' Mr Parker added.
- APNZ