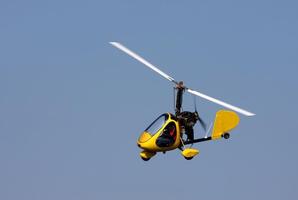 An instructor and his student died when a gyrocopter they were flying in lost control and nose dived into a South Taranaki paddock, an inquest has heard.
The wife of one of the victims says it was only thanks to getting stuck in traffic that she did not witness her husband's death.
The Civil Aviation Authority is blaming pilot error, saying it is likely the 70-year-old trainee pilot pushed the control stick forward rapidly, causing the aircraft to nose dive out of control.
The accident happened soon after take off from the Hawera aerodrome on November 12, 2009 - killing instructor Steven John Chubb, 51, and Neville Ronald Adlam, 70.
The gyrocopter crashed about 500 metres from State Highway 3 on Ohangai Rd, Normanby, 72km southeast of New Plymouth at 1.40pm.
At the time of the crash, Mr Chubb was giving tuition to Mr Adlam.
Coroner Carla Na Nagara presided over an inquest into the men's deaths today in New Plymouth.
Civil Aviation Authority safety advisor Alan Moselin said it was his belief that the pilot pushed the control stick forward rapidly, which caused the small aircraft to nose dive having lost stability. He added that at this point, with the gyrocopter too far forward, the situation was not recoverable.
Coroner Nagara questioned the system by which aircraft were deemed safe to fly, saying "it doesn't strike me as a hugely robust system".
"The hard part seems to be to get your flight permit, there is no follow up."
She identified that if modifications were made to an aircraft, and the owner chose not to follow the rules and have its permit reassessed, then it was a year before this would be picked up during the annual check.
Colin Alexander, a technical officer for the Recreational Craft Association of New Zealand, refuted this, saying the system "is not quite as loose as the perception you are gaining". The annual inspection process did keep people in check, he said.
Coroner Nagara reserved her decision, saying she needed time to consider the evidence.
"It is never easy when there is conflicting evidence," she said, adding that she was assisted in understanding the complexities of the case thanks to a handbook and a lego model.
Speaking after the inquest, Mr Alexander said in his opinion, as a technical officer, licensed aircraft engineer, test pilot, aircraft instructor and flying instructor, there was an "inherent instability in the aircraft".
Rhonda Adlam, Mr Adlam's widow, told the Stratford Press she was happy with the day's discussion. "Everyone has done everything they can."
Mrs Adlam said she considered it "providential" that she did not see the accident, as normally she followed her husband to video take offs and landings. This time however, she had been caught in traffic and so didn't witness it.
Commenting on the CAA's belief that pilot error caused the accident, she said: "Things happen so quickly in life, it is so hard to say," adding that she was sure no modifications had been made to the aircraft.
- APNZ