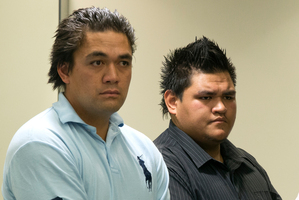 A nephew of Mana Party leader Hone Harawira was on bail for a home invasion in which a 12-year-old boy was bashed and robbed when he took part in an aggravated robbery.
Following a four-day jury trial at Auckland District Court, Enesi Zane Brooks Taito and his brother Tohara Harawira were today convicted of aggravated robbery and a third man was convicted of assaulting two witnesses.
It can now be revealed that Taito, 26, was on bail at the time for a home invasion after he and his brother, Mau Harawira, attacked a boy in his Auckland home. Taito was convicted for injuring with intent to injure in that case.
He was to be sentenced on Monday but Judge David Harvey adjourned the sentencing until the outcome of the aggravated robbery trial.
Judge Harvey jailed Mau Harawira for three years and two months.
It is understood Taito will be sentenced for both crimes in September.
At his trial this week, Taito had tried to take the blame for the aggravated robbery in order to save his brother, 21-year-old Tohara Harawira.
Both men are nephews of Hone Harawira.
The third accused is their friend Wikatana Popata, 23, who led Ngati Kahu protesters in an occupation of a Far North District Council-owned reserve in 2010.
But the jurors took only two hours to find Taito and Tohara Harawira guilty of aggravated robbery.
Popata was acquitted of aggravated robbery but convicted of assaulting two school boys who saw the robbery take place on a West Auckland street in August 2011.
The court heard how the three men were drinking bourbon and cola pre-mixes and beers when they saw Joseph Harper listening to his iPod.
Mr Harper crossed the road and headed towards a busy bus stop before he was punched in the face by Taito and stripped of his iPod.
Part-way through his trial, Taito admitted punching Mr Harper but said he was acting alone.
Outside court, Mr Harper said he had moved on with his life.
But while his eye socket and cheek bone fractures have healed, he has nerve damage in the right side of his face which has left him with numbness.
"I guess it makes me feel sad that people can do that kind of thing to each other, particularly people who are outwardly trying to align themselves with activism and causes which are relevant and important."
In his closing address to the jurors, Crown prosecutor Robin McCoubrey said Taito had tried to "suck up" all the blame.
Mr McCoubrey said it was Harawira who was looking through Mr Harper's bag as Mr Harper had been punched to the ground.
"It's not out of curiosity - he intended to steal something from Mr Harper - that's why he's ferreting through the bag."
Mr McCoubrey said Popata also had a part to play and slapped two nearby schoolchildren after telling them "not to nark".
"He does that because he's looking after himself, he does that because he's just been part of an aggravated robbery."
- APNZ