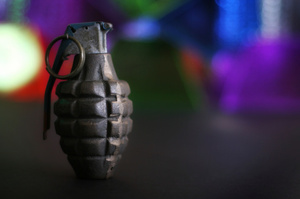 The hand grenade found in a Gisborne street that sparked the evacuation of houses yesterday turned out to be a practice grenade containing no explosive.
A bomb disposal expert from the explosive ordinance disposal unit in Wellington examined the grenade and declared it safe.
Police had made it secure in a metal container shortly after a resident found it in a small box in a gutter.
"It is a Mills Mk 36 drill grenade, of Second World War vintage," the disposal unit team leader said.
"I believe it would have been used for training purposes only and would probably never have been a live grenade."
He believed someone had possibly used it as an ornament.
"They were quite common in New Zealand, used by our military forces for training. It's in quite good condition for its age."
The disposal unit will take the grenade back to Wellington for disposal.
"Or it may find a new home in our museum."
The container the grenade was found in was used to store a later type of fragmentation grenade, the M67, of Korean and Vietnam war vintage.
Police mounted a guard at the property where the grenade was securely stored during the day.
Senior Sergeant Lincoln Sycamore said the man who found it in the street acted responsibly in calling police.
"He did all the right things we would expect a sensible member of the public to do."