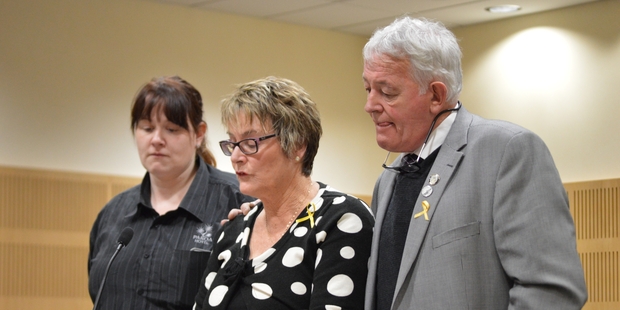 Pike River family members shed tears for their loved ones today and expressed anger at Pike River Coal Ltd for not taking full responsibility for the tragedy.
Sentencing began for Pike River Coal on nine charges of breaching health and safety laws which led to the explosion on November 19, 2010 - killing 29 men.
Judge Jane Farish found the company guilty in April.
Twenty victim impact statements were prepared, three of which were read aloud by family members in court.
The court head that Pike River management had "pushed the minors and contractors to their deaths" from a grieving widow, and that "daddy is up in the sky on his surfboard" from a young son.
Speaking first, Kath Monk, supported by her husband Bernie and daughter Olivia, talked about their grief and frustration, with a photograph of their son Michael placed against the podium.
"Michael's death was a shattering experience, and nothing can prepare you for this," she said.
"We lived a nightmare ... It's parents' instinctive duty to protect their children, and we were not able to do this."
Anna Osborne wept openly as she spoke of her late husband Milton.
"I find it immensely frustrating. I feel I have been dictated to, even in writing this statement," she said, referring to Pike River Coal.
She had ongoing health problems and did not know how she would cope without Milton's support. She broke down when talking about trying to bring home her husband's remains.
"I so desperately need closure."
She said Pike River management "pushed the miners and contractors to their deaths".
Tammie O'Neill said she and her late husband Peter were two weeks shy of their third anniversary at the time of the accident.
"I have difficulty sleeping ... wondering what he was thinking, did he suffer, and what went wrong."
She said the only time Pike River Coal contacted her was two weeks later, on the day of her anniversary, when an employee called asking if Peter was home.
Malcolm Sr and Jane Campbell wrote from Scotland that their son Malcolm was "the type of person who could walk into a room and make anyone smile".
Since the disaster, Malcolm Sr had difficulty doing his job in a quarry because he was traumatised by the sound of the blasts.
"Knowing he is on the other side of the world from us is hellish."
Several members of Allan Dixon's family wrote statements about the pain of losing him.
His brother Gordon said Pike River Coal "let us down with all the lies and false promises". Allan's partner Robin Henna said: "Anger is part of my life. I don't trust anything anymore."
Brenda Rackley wrote that her life crashed when she lost her partner John Hale, and she has since had difficulty holding her job and household together.
She said Mr Hale was concerned about safety conditions at the mine, calling conditions "chaos (and) unorganised" just days before the accident.
Kim Joynson, now living in Australia, said her partner Willie Joynson was also worried about mine safety and the lack of escape routes at Pike River.
Since then her only income was ACC payments in a New Zealand bank account, and she still had moments of uncontrollable crying and jolting awake at night.
Her sons Benjamin and Jonathan were frightened of reporters and television cameras.
Ricki Keane's mother Tracey said the families had been lied to by the coal company.
Sam Mackie's mother Beth said "my life is a horror movie".
She lost her only child and needed medication to help her function.
"I dream of Sam when he was a baby and a toddler. I dream that he is missing or has died."
His father Peter Mackie wrote that he had a breakdown and spent five and a half weeks in hospital.
"I was on medication and that nearly killed me."
Kane Nieper's wife Chloe also had her statement read out: "Kalani (Kane's son) asks about daddy every single day. He says daddy is up in the sky on his surfboard - it's ripped out hearts out."
The sentencing hearing continues this afternoon.