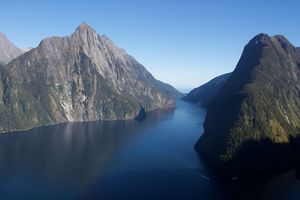 A "severe'' and shallow magnitude 5.2 earthquake struck near Milford Sound this morning, starting a series of at least seven shakes.
It struck at 7.41am, 10km northeast of the tourist hotspot and at a depth of only 5km, GeoNet said.
The jolt was felt across the South Island, including in Queenstown, Aoraki and Kaiapoi.
Glenorchy resident John Glover, owner of Kinloch Lodge accommodation which overlooks Lake Wakatipu, described the shake as a "typical Southland earthquake''.
"It was quite short, good rattle. You got the normal noise [which] sounds like a heavy truck coming down the road.''
The shaking lasted about 20 seconds, he said.
Others took to online media to talk about the quake.
Matt Kyhnn tweeted: "No need for an alarm clock today, earthquake shook the house and bed''.
Six smaller tremors have been felt since.
The Fire Service had received no reports of damage.
GeoNet said the intensity of the large quake measured seven or greater on the Modified Mercalli scale.
GNS Science duty officer Nico Fournier said strong earthquakes are not unusual in the Fiordland area.
"Often they are just small enough that people don't feel them - this one is just a wee bit bigger so we've had more people feeling it.
"If we had the same earthquake in the North Island a lot of people would feel them."
GeoNet data centre manager Kevin Fenaughty said it is likely there will be further aftershocks in next few days, although they will become more infrequent over time.
"We do not expect a larger quake than the initial magnitude 5.2, but as you know we just cannot rule that out entirely," he said.
- nzherald.co.nz