Police, Auckland Transport step up campaigns targeting increase in young driver fatalities linked to alcohol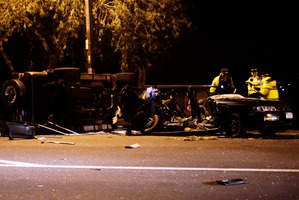 Twice as many people were killed on Auckland's local roads in the first five months of this year as in the same part of 2012.
Crashes on the Super City's local roads claimed 20 lives from January 1 to May 31, to the alarm of Auckland Transport and the police, who are otherwise welcoming a lower national toll.
They are particularly concerned at an increase in deaths involving alcohol and young drivers, and Auckland Transport says it has responded to this with targeted education campaigns, including advertisements on bus-stops.
The police have also been mounting night-time drink-drive checks in high-risk areas, including South Auckland.
Auckland's figure was up from 10 local road deaths for the first five months of 2012. The number killed on motorways and state highways fell from seven to four.
That added up to 24 killed on all the region's roads including highways to the end of May, compared with 17 for the same time last year.
Yet the national road toll stood at 127 deaths yesterday - 15 fewer than in 2012.
The Automobile Association is surprised at a high proportion of motorists and passengers in the Auckland statistics, in contrast to other cities and towns, where pedestrians and cyclists are generally the main casualties of urban crashes.
But four car occupants killed on roads controlled by Auckland Transport were young men who died in a single crash in Mangere in May after a police chase.
They were among seven drivers and five passengers to die on local roads.
Also killed were two motorcyclists, four pedestrians, one cyclist and a mobility scooter rider.
Both the cyclist and scooter rider were 82-year-old men.
Those killed on state highways included two brothers aged 3 and 11 and their 17-year-old aunt, who died after the car she was driving col-lided with a van near Helensville in March.
AA spokesman Dylan Thomsen said Auckland's grim result should shake people out of any complacency in assuming they would be safe on local roads as long as they were not driving drunk or speeding.
"Obviously people need to be sober and obeying the speed limits, but it's also about being focused and having your mind completely on the job of driving," he said.
Side-on intersection collisions were particularly life-threatening "because you only have a door, or, if lucky enough, side-curtain air-bags, between you and the other vehicle".
Central Auckland road policing manager inspector Gavin Macdonald said speed and alcohol were involved in crashes that killed two car drivers and a motorcyclist on his patch, none of whom had the correct licences.
He also remained concerned about pedestrian safety after one person was killed crossing a road in bad weather and another while wearing dark clothing at night.
"We're having a real issue with people using cellphones and wearing iPods walking across the street, disengaged from their environment."