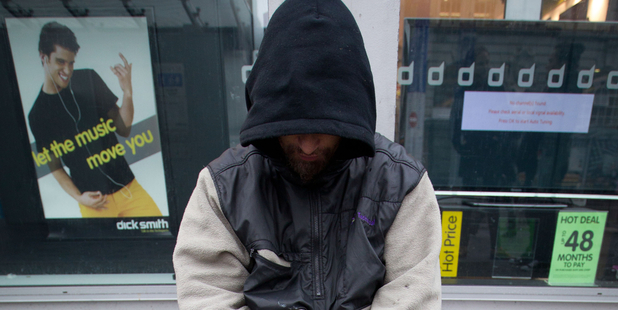 One man begs every day to raise money to support his eight children.
The man, who didn't want to be named, said it was "bulls***" that the council was moving to ban his source of income.
"It's s*** because what else can we do?"
Yesterday, the beggar sat by the Downtown shopping mall with a sign asking for money or shelter and a hat upside down. Some people who dropped coins into the cap were rewarded with a grateful thumbs-up.
His 19-year-old daughter chatted with him and one of his sons begged across the street outside McDonald's with a similar sign. His said the youngest child he supported was 12.
The man received a benefit but said it wasn't enough to support the family so he was forced to beg.
He had tried to get a job but couldn't, so he had made do.
He didn't want to go into detail on how he ended up on the street but said he'd been there for years.
"It's pretty sociable - you have to be friendly."
His daughter said he wasn't hurting anyone so didn't see why Auckland Council was proposing to ban beggars.
Less than 100m up Queen St, Simon Robinson laid out his plastic container, held down with a stone.
The 43-year-old, who began begging for about three hours a day five years ago after his debts got on top of him, lives in a boarding house in Mt Eden.
Street view: Would you support a bylaw to ban begging?
Sylvia Trister, Remuera, 75
No. People are often in unfortunate circumstances and others aren't forced to give so it's up to the individual.
Mark Moynihan, CBD, 44
Parts of it. Where I'm from [Ireland] there's begging, but there's more here - it's more in your face.
Hollan Brabet, Christchurch, 23
No. It's pretty harsh. I'm sure people begging have a good reason to be begging. They're not hurting anyone.
Shan Sirinanda, CBD, 38
Definitely. Some of them are able people and they are able to get jobs instead of begging. Sometimes you do give them a golden dollar.
Te Rangi Rolleston, Tauranga, 21
No way. It's a way of life and it doesn't hurt anybody ... If they were offering a support system, I would support that.
Sarah Godfrey, Manurewa, 16
Yes. They just sit there and they won't get up and go get a job - they don't even bother.