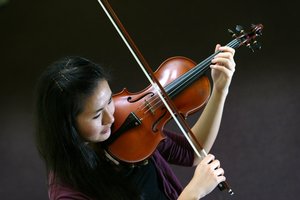 Jenny Chen says she lost a part of herself when her beloved violin was stolen from her Auckland home yesterday.
Burglars took anything they could find of value from her Onehunga flat, including two electric guitars, a laptop computer and her 143-year-old French violin made by Justin Derazey.
Ms Chen, a distinguished violinist whose musical feats include performing with the Auckland Chamber Orchestra, the Christchurch Symphony Orchestra and playing twice for the late Tongan King George Tupou V, said the instrument had been a huge part of her life.
"It's like losing part of yourself. I think if you ask any musician they'd say the same about their instrument."
She bought the violin in 2006, partly funded through a University of Auckland scholarship.
"It's been with me for the last seven and a half years and I've taken it everywhere.
"The more you play it the more you make it the way you want it to sound, so it's really personal to me now."
Even if the violin was never returned, she hoped it would somehow find a good home because she could not bear the thought of it just disappearing.
"I would rather someone valued it and treasured even if I never found it," she said.
Ms Chen is personally offering a $500 "no questions asked" reward for the return of the instrument.
It can be dropped off anonymously at her work at Ernst & Young, 2 Takutai Square, Britomart.
Ms Chen can be contacted on 09 377 4790 or 021 680 467 or by email on jenny.chen@nz.ey.com.
- APNZ