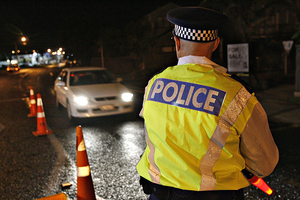 A West Coast man who was shocked speechless when he was declined bail a month ago was even more bewildered when he was jailed yesterday for 19 months on his 13th drink-driving conviction.
Last month, Barry (Wayne) Mercer, with his legs seemingly crumbling under him, had to be assisted from the dock, asking the warden: "What's happening ... what did he say?" when Judge Gary McAskill remanded him in custody for sentencing.
Yesterday, he was again assisted from the dock, muttering: "What's going on ... why ?" before appealing to Judge Jane Farish: "I'll never misbehave again, miss."
"I hope that you don't; when you're released," the judge jailed him replied as Mercer was led through the door.
Mercer, 61, of Blackball, vacated not guilty pleas and admitted charges of driving with excess breath-alcohol (his 13th), driving while disqualified (his 9th) and furnishing false information to police, on August 25 last year.
He was caught by a police checkpoint, drunk at the wheel, but gave his name as Lindsay Gibson (an associate), including that man's correct date of birth and address. Police subsequently laid the charges against the wrong man, but on September 10, the day before he was due to appear in court as Mr Gibson, Mercer presented himself at the Greymouth police station and confessed that he had duped the arresting officer.
Lawyer Richard Bodle yesterday sought a home detention sentence, saying that Mercer had multiple medical problems, was "an old 61" and that prison would be too tough on him.
"The remand in custody was difficult for him ... the integration into a community made up of angry young men, prison is a very difficult option for him."
Judge Farish said she sympathised with Mercer's medical and personal issues but they could not sway her from a jail term.
"You pose a significant risk to the public and yourself, and every time that you drink and drive that risk rises astronomically," the judge told Mercer. "You are playing Russian roulette with other road users.
"You are a chronic alcoholic, but it's not the drinking; it's the decision to drive after the drinking that's problematic.
"On one hand I have considerable sympathy for your position but on the other hand you have had ample opportunity to change, yet you continue to drink and drive."
The judge settled on a starting point of 32 months but reduced it to 19 because of Mercer's health problems and his guilty pleas.
She added a further 18 months to his driving disqualification.