Experienced rider thrown on to windscreen and back among mates when hit by car during evening ride.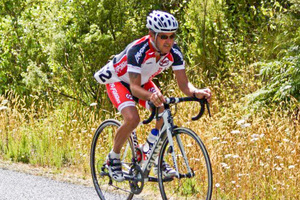 A Hamilton cyclist was last night battling for his life after an accident with a car that saw him thrown into a windscreen before rebounding back into a group he was riding with.
Craig Goulsbro was cycling with 14 friends on Puketaha Rd, near Hamilton, when a car hit them just after nightfall on Monday.
Mr Goulsbro, 50, a warehouse manager, was unconscious when he was taken to hospital and surgeons told his family and friends he was unlikely to survive his injuries.
A Waikato DHB spokeswoman said yesterday that Mr Goulsbro was in a critical condition.
Mr Goulsbro's close friend and cycle shop owner Bob Puru said the group of cyclists got together regularly for social rides.
On Monday night the experienced riders were celebrating the second anniversary of his Flagstaff shop opening with a 46km ride on the outskirts of Hamilton.
Mr Puru, who spoke to riders in the group after the accident, was told they were riding single file and all had reflective clothing and lighting. He was told the driver of the car somehow slid behind the pack before the accident.
The impact caused Mr Goulsbro to slam into the Ford Falcon's windscreen before he rebounded into other riders in the pack, several of whom were also injured.
Another cyclist, Robert Dejong, who suffered bruising after being thrown into a ditch, told TV3 he never saw the car coming.
"I was pleased with myself because we were riding so close together all in a straight line in a single file. We all had lights on and we were very visible and all that ... and then the next thing I know is that I was just flying through the air, I had no warning of what was coming," he said.
"I went through the air and got pushed sideways, I ended up in the ditch. The guy I was riding behind I assume was the one who ended up on the bonnet." One of the rear-most cyclists told Mr Dejong the driver overtook the group and moved in too soon.
"It could have been so much worse, a lot worse."
Another man was thrown into a wire fence and another was understood to have broken ribs but they were discharged from hospital on Monday.
Mr Puru questioned how the motorist failed to see the riders.
"If you get 10 to 15 riders all wearing fluoro with flashing lights you can't miss them."
The site of the accident on a 100km/h stretch on Puketaha Rd, on the eastern fringes of north Hamilton, is mainly straight but narrow with a small verge.
Hamilton police said it appeared the driver did not see all of the cyclists when overtaking them and pulled back into the group.