Large number of Tauranga businesses hit by disaster expected to lodge claims with fund.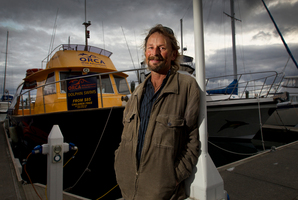 Mark Tucker will never know how much money he lost during the darkest days of the Rena disaster.
His Tauranga eco-tourism venture, Orca Wild Adventures, was in its infancy when the container ship struck the Astrolabe Reef and caused an internationally publicised environmental disaster.
"We'd only started and had made a loss the year before, so we had great expectations for the next year," Mr Tucker said.
"But of course it turned out to be a dead year because of the Rena."
A year and a half on, he plans to lodge a claim for a newly launched $11 million compensation fund set up by the Rena's owners and insurers to pay back businesses hit in the pocket after the October 2011 grounding.
While his wildlife-watching business was able to get tourists out on the water and make some money that summer, fellow operators took much bigger hits, some suffering $100,000 losses.
For these companies that relied on the summer season for turnover, the oil spill could not have come at a worse time.
And while an exclusion zone around the wreck closed down what was a hot spot for dolphin watching, it was the publicity about the disaster that inflicted the most damage.
"It all just put people off. Even a year after, we still had people not wanting to come because of the Rena."
The compensation fund is likely to have applications from a wide range of affected businesses, from campgrounds and hotels, to a speedway event that had to be cancelled because a wildlife recovery centre had been set up next door.
Tauranga's tourism agency previously put potential losses at as much as $1.2 million each day during the disaster, and reported that over half of tourism agencies had been negatively affected.
One marine operator had closed and another had lost $50,000, two accommodation providers were down $148,000 and $9000 respectively, a grocery retailer had lost $109,000 and a sports event $15,000.
Bay of Plenty Commercial Fishermen's Association president Brian Kiddie said all of the region's crayfish operators were likely to be putting in claims.
Many fishing firms would also seek compensation, among them trawler operators who had suffered damage to equipment from container debris.
Tauranga Mayor Stuart Crosby was happy with the sum.
"I've met people who have representative groups who think it should be a lot more," he said.
"But in my view, from the people I've spoken with, be they inshore fishers or tourism operators, they're not asking for a lot of money - nowhere near $11 million."
He felt those businesses that were hardest hit - especially eco-tourism ventures - should be placed at the top of the list.
Captain John Owen, of insurers The Swedish Club, said the $27.6 million settlement reached with the Government had been kept outside the limitation fund process, so the $11 million fund - the maximum under New Zealand law - could provide compensation.
Guarding the Gulf
Auckland has become the first region in NZ to have virtual navigation markers for ships using the Hauraki Gulf.
After the Rena grounded on the charted but unmarked Astrolabe Reef, an assessment of potential dangers in approaches to Auckland identified seven sites.
Auckland Council's Harbourmaster Office and Ports of Auckland have installed virtual aids to navigation at each of the sites, which appear on vessels with automatic identification systems and electronic chart displays.
Auckland Council has ordered a 12m barge and new debris-collecting equipment to be used in oil spill responses.