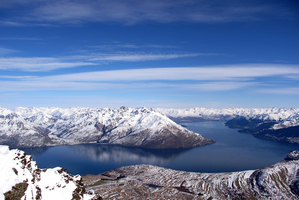 Gale-force winds have forced the closure of ski fields and snow melt has prompted flood warnings in Otago.
The MetService issued a severe weather warning today as a warm northwesterly flow over the South Island brought gusts of more than 100km/h to parts of Southland and Otago and heavy rain to the West Coast.
Otago Regional Council said rivers were rising steadily after the warm flow caused snow from the wintry blast to melt in the upper parts of the Pomahaka, Manuherikia and Taieri catchments, as well as in catchments in parts of North Otago.
It warned farmers in those areas have to move stock to higher ground.
NZ Ski marketing general manager Craig Douglas said strong winds had forced the closure of Mount Hutt in Canterbury and the Remarkables in Otago today.
"Here in Queenstown, we closed Remarkables because of the wind this morning, we didn't open - but we've been operating at Coronet Peak all day and it hasn't been too bad here."
He said strong winds could affect the chairlifts.
"The chairs can get caught by the wind and swing, and ultimately you could run the risk of them derailing. That's why we closed them, but we've got some pretty significant safety margins built in."
Mr Douglas said the rain and snow had been more of an issue, and he anticipated everything would be back to normal tomorrow.
The MetService issued a heavy rain warning for Fiordland and southern Westland, and a severe gale warning for parts of Canterbury and Otago.
The severe weather warnings are excepted to remain in place until conditions ease tomorrow.
MetService meteorologist Daniel Corbett said the warm northwesterly flow was caused by a front draped across the South Island.
Temperatures in the east were well into double figures today, with Oamaru recording a high of 16C and Timaru reaching 17C - well above the 10C average for this time of the year.
Mr Corbett said that was a marked difference from the same time last week, when temperatures barely reached 6C.
"We were sitting in the bone-chilling cold, so quite a difference that's of course leading to the snow melt.
"And when you're getting some moisture coming over the divide, getting into the headwaters, needless to say the rivers are flowing pretty well."
Mr Corbett said an initial surge of heavy rain in the west had eased after more than 100mm fell in Fiordland this morning. A second surge of moisture would come through late tonight.
The South Island was also being battered by heavy winds, with gusts easily in excess of 100km/h in parts of Southland and Otago this morning.
"They've eased back slightly, it's still quite windy. But there's going to be another surge - you can imagine almost like an accordion tightening as each section of the front comes through."
- APNZ