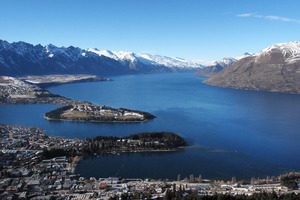 Organisers of Queenstown's celebrated Winter Festival say the big winter party still has a strong future, despite the withdrawal of a major sponsor and complaints about drinking.
Destination Queenstown which runs the 10-day event says this year's, the 39th, was as popular as ever with thousands of visitors and locals turning out for the 60-odd events.
"It went extremely well, there was great engagement and lots of good fun," Destination Queenstown chief executive Graham Budd said.
NZSki has complained to police about night-skiers illegally drinking on the slopes, and a 22-year-old Christchurch man was arrested yesterday after being allegedly caught smashing an ice sculpture. He was charged with wilful damage and would appear at Queenstown District Court on July 15, local Senior Constable Chris Blackford said.
Questions about policing during the Winter Festival were referred by Mr Blackford to his Senior Sergeant John Fookes, who was unavailable for comment today.
Mr Budd accepted some locals felt that the event had become tired, and in need of a change of direction.
Some concerns have already been addressed ahead of next year's 40th anniversary event, he said.
"With any event that has a strong community engagement, and the Winter Festival certainly does, there will be different opinion over individual events, or the overall festival," he said.
"Already this year we've taken that feedback on board and we've created some new things that address some of those early concerns, and that is an ongoing process, rather than a point in time one. But there will still be people out there who have views that we should be doing things differently - that's the nature of things."
An online survey was also planned to canvass public opinion on the event and provide official feedback, "rather than the third-hand anecdotal" notions that had been circulating, Mr Budd said.
The wider review would ensure the festival was well positioned to continue for many years and would look at the event's ownership structure, with the possibility that it could go into a community trust, he said.
Other things they want to review is whether funding was "coming from the right places", and if the event was providing enough value for current and future sponsors.
Air New Zealand dropped out as a sponsor of this year's event, but stumped up some much-needed cash at the last minute.
The review would begin immediately and would not affect next year's event, with Mr Budd saying it would be 12 months before any changes were implemented.
- APNZ