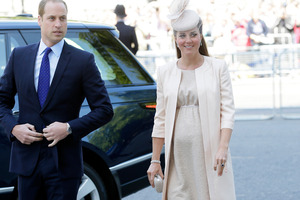 A bill which changes the royal line of succession to remove restrictions for women and Roman Catholics is set to pass its first stage this evening.
New Zealand and 15 other countries of which the Queen is head of state must pass legislation to match British laws on royal succession.
The legislation will make sure that succession was not dependent on gender. When passed, an older sister will precede a younger son in the line to the throne.
At present, the royal succession favours males over females.
The Royal Succession Bill will also remove the restriction which bars a person who is married to a Roman Catholic from the throne.
Justice Minister Judith Collins told Parliament that these anomalies were outdated and could no longer be justified.
"It is important that our constitutional institutions such as the monarch retain ... their history and tradition. But it is also important that the rules that govern these institutions evolve to reflect the times in which we live.''
Labour justice spokesman Andrew Little said his party would support the bill, but questioned why Parliament was wasting its time on an ``anachronistic'' piece of legislation.
Some MPs also questioned whether it was appropriate for New Zealand to pass legislation which excluded some religions.
While the legislation would allow a person married to a Roman Catholic to join the line to the throne, it would still prevent a Roman Catholic or people of other religions from becoming King or Queen.
Green MP Kennedy Graham said this was an ``undeniable'' breach of the human right to freedom of religion. His party will abstain from voting on the bill's progress.
The changes will apply to all royal births after October 28, 2011.
Mrs Collins said it will apply to the child of Prince William and wife Catherine, who are expecting their first child later this month. The child will be the third in line to the throne.