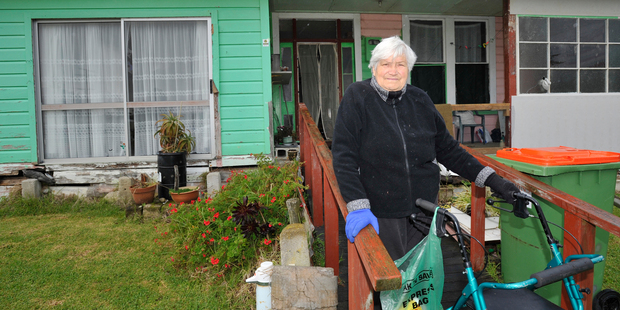 An appeal has been lodged against a court decision to evict an 83-year-old woman from the Mahia Peninsula home south of Gisborne where she has lived for more than 40 years.
Norma Whaanga sits in her home with blanket tucked around her and wipes away tears as she recounts the land ownership "nightmare" she is facing, which includes being served with a trespass notice by police a fortnight ago.
"I wake up each morning and wonder if I will be taken away today," says Mrs Whaanga.
The kuia's right to live at 4 Domett Street or Mahia Township Section 91 has been contested by family members of her late husband Mac Whaanga - his stepsister Nyron Ransfield, Elizabeth MacDonald and the Ihaka Whaanga Whanau Trust.
Mrs Whaanga's lawyer Peter Harland says issues behind the land feud had their "fair share of complications" and that misunderstandings had manifested into a "cold and cruel" state of affairs.
"It is a sad day in Aotearoa when an old lady is turfed out of her home."
Mrs Whaanga is more heartbroken than angry.
"I don't blame my husband's people.
"Bureaucratic and legal processes dealing with Maori land ownership are to blame.
"As far as Mac and I knew, we succeeded to this land through his father Ihaka Isaac Pupu, so we brought our house here. My boy was 18 months then. He is 45 now.
"Some of the happiest memories of my life were made here."
Mrs Whaanga said the good times were overshadowed by an eight-year land court battle. She had a heart attack last year.
Chief Maori Land Court Judge Wilson Isaac, at a hearing in Wellington in May last year, found in favour of the trust and gave Mrs Whaanga two months to remove her dwelling and vacate the property.
Mrs Whaanga is stuck between a rock and a hard place.
"The court said if the house remained on the land it would become the property of the trust. But if I was to remove the house, I would be legally obliged to pay more than $60,000 for rent due and owing. I don't have that sort of money."
The trust said at the hearing that Mrs Whaanga was trespassing because she was not a beneficial owner of the land and had no arrangement with the trust for access or occupation of the land.
Her son Peter Whaanga is appealing against the Maori Land Court ruling and the trust's ownership claim under the Ture Whenua Maori Act 1993.
"My intention is to appeal in my own right. I will incidentally be a substitute appellant for my mother. She is becoming increasingly frail and I feel obliged to take the stress from her," he said.
Peter Whaanga is a direct blood descendant of Ihaka Tatu Whaanga, who was gifted the land as a Crown grant but did not uplift the certificate of title before his death in 1875.
Record-keeping land ownership cracks appear to sprout from here.
Mrs Whaanga said her husband made inquiries to clarify the ownership of section 91 in 1973 and was told by the Napier deeds office that it was Crown land.
He was given two options - he could buy section 91 outright or wait for a period of 20 years and then apply to acquire the title based on adverse possession, she said.
Mr Whaanga took the second option.
"The fact section 91 was offered to him by sale and purchase suggests that as far as the Crown was concerned, it still owned the land," said Peter Whaanga.
There are a number of other issues that complicate the land matter even more. They include Wairoa County Council wanting section 91 for a depot and the introduction of the Maori Land Act 1993.
"Quite frankly it seems to me that my father and now my mother are being penalised for simply trying to get clarification," Mr Whaanga said.
"If section 91 was still Crown land at the time my father sought a title due to adverse possession, then there should not be a problem," he said.
The trust is also seeking from Mrs Whaanga rental due on the land next door - section 90.
"My mother resides on section 91 only," said Peter Whaanga.
"The Ihaka Whaanga Whanau Trust came into existence and was registered as owner of both section 90 and 91 in 2008 and since then has been at liberty to take possession of at least section 90. It has not done so."
Mahia Township Sections 90 and 91 were general land until 1997, when they were changed to Maori freehold land. Both properties have easy street access.