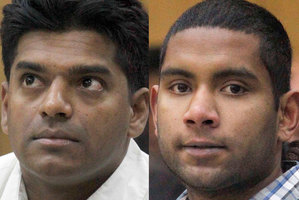 A Canterbury dairy farmer who was brutally murdered was dead before his body was set on fire, a court has heard.
Viraj Alahakoon, 34, and Thuvan Prawesh Sawal, 24, are both on trial in the High Court at Christchurch charged with the murder of Sameera Chandrasena Battelage, 28, at his farmhouse on Domain Rd, Oxford, on February 23 last year.
They have both denied cutting his throat and setting his body on fire.
The Crown said Mr Battelage's neck was stabbed or cut six times before his body was doused in petrol and set alight.
Forensic pathologist Dr Marissa Feeney, who is based in Wellington, gave evidence today on the seventh day of the trial. He said there was no significant soot in Mr Battelage's airways, which suggested he was not breathing or alive during the fire.
If someone were alive, Dr Feeney said a pathologist would find thick, black soot deposited through the airways and there would be a high level of carbon monoxide detected in the blood sample.
In this case, there was a carbon monoxide level of 5 per cent saturation.
Mr Battelage's body had areas where skin had been burnt and where it had been burnt away exposing soft tissue, charred bone and organs.
Once the body was turned over, to be removed, on the remains of a sofa bed, Dr Feeney said there was a strong smell of petrol.
She said the body had been found with fabric wrapped around the neck and lower head.
The cloth had preserved the skin beneath it which made it easier to see the injuries.
Of the six stab wounds, Dr Feeney said the most serious one was the long ``incised'' or cutting wound to the front of the neck, which went through the larynx and both the jugular vein and carotid artery.
She said it would have caused extensive bleeding and rapid blood loss, and death would have taken place within minutes.
Mr Battelage's hands and lower forearms, shins and knees had been burnt away and were not recovered or identified.
Justice Christian Whata urged the jury to put their emotions aside as they viewed the autopsy photographs.
Alahakoon is also charged with assaulting a woman, who has name suppression, with a pair of scissors on December 5, 2011, and again on Boxing Day that year.
The trial, before Justice Christian Whata, continues.