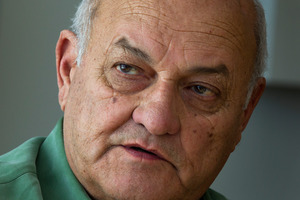 Millionaire philanthropist Sir Owen Glenn has withdrawn his bid to be a White Ribbon campaign ambassador.
The withdrawal of his application follows media reports that he entered a plea of no contest after he was charged with abusing a young woman in Hawaii in September 2002.
The no contest plea means he neither admitted nor denied the charge, which was brought before the courts in 2003 and dismissed the following year.
White Ribbon's chairman, former Family Court chief judge Peter Boshier told Radio New Zealand Sir Owen had sent him a statement in which he continued to deny any violence against women, but wanted to put the integrity of the campaign first, and felt it was best to bow out of the campaign.
"I think what he's done is to acknowledge that there's been a good deal of harm - probably to himself as well as some to White Ribbon - and he's decided to just let us now get on with it.''
Judge Boshier said it brought a "public spectacle'' to an end.
"I think the shame of it is two-fold, one is that he undoubtedly feels bruised and somewhat hard done by, and I think that's regrettable.
"The second is I hope and I sincerely hope that this is not deflected away from the real and important message of White Ribbon and that is the profound one that matters, not Owen Glenn and whatever did or didn't happen.''
Stopping violence by men towards women was the main message, Judge Boshier said.
If Sir Owen had alerted the White Ribbon committee to the abuse accusation, the situation might not have become the "spectacle'' it had turned into, he said.
"There's a little bit of a lesson here for us all perhaps, and that is, let's just be as open about what may or may not have happened in our past as possible, so that there are no surprises.''
Court documents, seen by Fairfax Media, showed Sir Owen was arrested at Aston Waikiki Beach Hotel early on September 10, 2002, and charged with "abuse of family or household members''.
The documents reportedly showed he was accused of intentional, knowing or reckless physical abuse of the woman, whom Fairfax did not name in its report.
Sir Owen has denied the allegation.
He told Fairfax he regretted not taking the matter to court, but had decided after two years of dispute to resolve the case to avoid further "horrendous court costs'' and to bring the matter to an end.
The court documents reportedly showed the charge was dismissed in August 2004 following a six-month period of probation.
Sir Owen has since signed two declarations that he has no history of violence towards women or children - one for the Glenn Inquiry, which has been shaken by resignations, and one for the White Ribbon anti-violence campaign, for which he had hoped to become an ambassador.
A member of the think-tank for Sir Owen's $2 million inquiry into child abuse and family violence, Kim Workman, said the inquiry's governance board would meet early next week to decide on the inquiry's future.
Mr Workman and Women's Refuge chief executive Heather Henare are due to report to the board on their review of procedures to ensure the safety of people giving evidence to the inquiry after inquiry head Ruth Herbert resigned over concerns about the way submitters were being treated.
"We are coming to the end of the review," Mr Workman said.
"We got held up by the storms in Wellington, we lost a couple of days. We are proposing to have it ready for the board by the beginning of next week."
Sir Owen, board chairman Bill Wilson, new inquiry chief executive Kirsten Rei and the sole remaining co-chair of the inquiry, former Race Relations Conciliator Gregory Fortuin, did not return calls.
Four think-tank members resigned after Ms Herbert quit the inquiry. More are likely to quit now, leaving the inquiry's future in doubt.
Inquiry chief executive Kirsten Rei said Sir Owen's inquiry into child abuse and domestic violence would continue despite the allegations.
"For us it's business as usual," she said.
"As a team we are really concerned to get on with what we are here for, and that is to find out, if New Zealand was leading the world on domestic violence and child abuse, what would that look like."
She said eight of the 38 think-tank members had now resigned: Anton Blank of the Maori anti-child abuse group Ririki; Auckland University sociologist Vivienne Elizabeth; family violence researcher Dr Janet Fanslow; psychologist Dr Nicola Gavey; disabled advocate Dr Huhana Hickey; lawyer Catriona MacLennan; child health expert Dr Susan Morton; and women's studies lecturer Dr Rachel Simon-Kumar.
"That still leaves quite a sizeable number, and we still have to consider those who have come forward since [Ms Herbert's resignation]," Mrs Rei said.
She said some of those who had quit said they were doing so because of time pressures, but had told her they were still available to contribute to the inquiry if asked.
She did not believe that potential submitters would be deterred from giving evidence after the revelations about the Hawaii case against Sir Owen.
"If anything, we have more people coming forward wanting to give evidence," she said. "We completely think that all the media coverage in the past few days is a huge distraction."
Mrs Rei said Sir Owen was in Monaco, and she had not discussed the Hawaii incident with him.
- APNZ