Anxious wait as searchers fail to find any trace of schooner missing in Tasman Sea.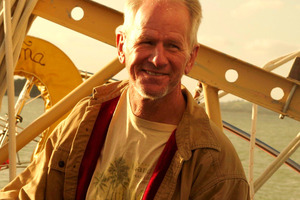 The sister of the captain of the missing yacht Nina says the worst possible outcome would be for the crew to be lost at sea forever and to never know what happened to them.
Cherie Martinez's brother, American David Dyche, 58, is the owner of the classic yacht that is missing in the Tasman Sea. Fears are growing daily for him and six companions, which include his wife Rosemary and their 17-year-old son David.
Mrs Martinez said she wanted her brother found - but is terrified the search will be called off before they know what has happened. The last known contact was a text message on June 4 inquiring about weather conditions.
"At the end of the day I would rather find out they made it okay, which is better, or at least debris or something so I can call closure. But for them to be lost at sea and never be heard of again, that will be very difficult."
Yesterday, an Air Force P3 Orion continued a radar and visual search of an area north of Northland, but returned to base about 6pm with no sightings.
Rescue Co-ordination Centre New Zealand (RCCNZ) mission co-ordinator Geoff Lunt said the search area was about four times the size of New Zealand. He said the RCCNZ determined the search areas on the basis of drift modelling from the last known position of the yacht on June 4 and two days of coastal searching.
Speaking from her home in Tennessee, Mrs Martinez said the not knowing was the hardest part.
"It's a rollercoaster. One day you think they will make a phone call, the next you're [resigned] to have lost them at sea ... Deep down I think at times they are lost but this boat has always made it to shore.
"It's lost its mast, it's gone through rogue waves through the Pacific, the Atlantic a couple of times, it's sailed even without engines - it was built to race."
She'd been told there were other boats in the Tasman when the storm hit and questioned why the Nina, "an ocean boat", did not make it.
"Nina has had disasters before but always crept into port."
One theory she'd heard was that the Nina had encountered some engine failure and been "limping along" before some other calamity.
But she is in no doubt her brother would have done everything possible to save his family.
"I grieve for him at times but being a pilot myself I know there is risk inherent in the job ... But he wouldn't put his family at risk."
She is also sure the others on the Nina would not have got on board in Opua, Bay of Islands if they had any doubts.
One of the crew is 73-year-old world renowned computer engineer Evi Nemeth, who is also an experienced sailor. Mrs Martinez said the others on board were an 18-year-old American called Daniella, another American, a 28-year-old called Kyle, and Matthew Wooton, 35.
The family of Mr Wooton, a Green Party activist from the UK, still hold on to hope he may be found alive.
His sister Lara told the Daily Mail her brother was "very environmentally aware" and travelled by boat or public transport when possible.
He was writing sporadically about his travels, and the last post on his blog, written last July on board a freighter, was a piece about facing his fears of the ocean. His mother Susan said the family hoped the search for her son would continue.
Missing at sea
*In March 2010, Tafadzwa was sailing from Tauranga to Gisborne. It was found 16 days later near the Chatham Islands without its skipper, Paul Janse van Rensburg. However, his dog Juanita was still on board.
*The New Zealand yacht Manoah set sail for Rarotonga from Nelson with two crew on board in 2005 but then disappeared. Its wreckage was found on Uonuku Island, halfway between Nuku'alofa and the Vava'u islands group, in Tonga in February 2007.
*In 1989, four men spent 119 days adrift on their capsized trimaran, the Rose Noelle, before washing up on Great Barrier Island. The men had set off from Picton for Tonga but storms flipped their boat off the Wairarapa coast.
*The yacht Smackwater Jack and its four crew disappeared during a race from Hobart to Auckland in 1980. The crew reported difficult and heavy seas on January 9 but were not heard from again.