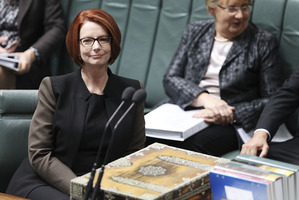 MPs will give way to New Zealand soldiers - including SAS troops - and their families this evening for a ceremony in Parliament's debating chamber to mark the Defence Force's service and losses in overseas conflict.
In a rare move, up to 200 people will be allowed on to the floor of the House during Parliament's dinner break for the unveiling of three commemorative plaques which recognise New Zealanders wounded or killed in Afghanistan, Timor-Leste and on peace-keeping missions.
Defence Force officials, families of the soldiers, and elite troops will hear speeches by Speaker David Carter, Prime Minister John Key and Leader of the Opposition David Shearer.
The plaques are the first to be added to the debating chamber since the 1990s, when memorials for wars in Malaysia and Vietnam were put up.
New Zealand troops withdrew from Afghanistan in April after a 10-year deployment which cost the Defence Force 10 lives. More than 7000 New Zealanders served in operations in Timor-Leste between 1999 and 2012, and five were killed.
And in 60 years of peace-keeping operations in 40 countries, two New Zealanders were killed in Kuwait and Bosnia.
Parliamentary tour notes say the wood-carved plaques were placed in the debating chamber "as solemn reminders of the gravity of decisions made by Parliamentarians to send men and women overseas on active service and operations, and to acknowledge the service and sacrifice of those men and women".
Former Australian Prime Minister Julia Gillard referred to the plaques in a speech in the debating chamber in 2011, describing them as "snapshots of the shared and lasting bonds between our two nations".
"Our ties were indelibly forged in hardship and mateship, from Gallipoli and the Somme to Tobruk, Korea and beyond ... And wherever Australian and New Zealand blood has been shed, it remains sacred ground."
MPs from all parties were expected to attend the ceremony. Green Party defence spokesman Kennedy Graham said he had "no problem" with honouring New Zealand's military campaigns in the House.
The Herald has agreed with a request by the Defence Force to not identify SAS soldiers at the ceremony.