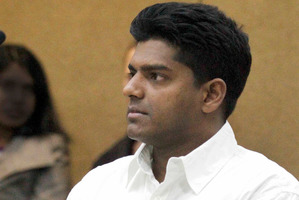 A man accused of murdering Canterbury dairy farmer sounded shocked when a friend phoned him to say Sameera Chandrasena Battelage had been found dead, saying, "Don't lie man," a court has heard.
Viraj Alahakoon, 34, and Thuvan Prawesh Sawal, 24, are both standing trial for the murder of Mr Battelage at his farmhouse on Domain Rd, just outside Oxford in North Canterbury on February 23 last year.
They have both denied cutting his throat and setting his body on fire.
The Crown says Mr Battelage's neck was stabbed or cut six times before his body was doused in petrol and set alight.
On the sixth day of their trial in the High Court at Christchurch today, a friend to all three men, Buddiya Hewa-Alankarage took the stand.
He said he got a phone call from his close friend, Mr Battelage's brother, Nilantha, to say that 'Sammy' had been found dead in his burnt home.
He then phoned Alahakoon to give him the bad news.
"Viraj sounded shocked, and he said, 'Don't lie man," he told the court.
"I said, 'No, no, it's true. Sammy is dead. So then he wandered and shout [sic]."
Sawal was with Alahakoon at the time, and Mr Hewa-Alankarage said he also spoke to Sawal.
He also "couldn't believe" the news, he told the court.
Both men admitted to the witness that they had been with Mr Battelage earlier that night, and had watched cricket at the Oxford Working Mens Club.
They then dropped him home about 10.30pm, they said.
Under cross examination by Pip Hall QC, representing Alahakoon, he admitted that it was Sawal who told Mr Hewa-Alankarage the exact time they dropped Mr Battelage home.
Mr Hewa-Alankarage denied telling the murder accused that Mr Battelage had died in a fire, saying, "I didn't know what had happened."
Under cross examination by Andrew McCormick, representing Sawal, Mr Hewa-Alankarage wasn't sure if Alahakoon was crying during the 2-3 minute phone conversation.
"I felt ... that he was seriously shocked. I didn't feel he was crying but I can say he was severely shocked."
Mr Hewa-Alankarage said he ended the call, saying he was "a bit upset", adding: "I didn't feel like continuing the conversation."
The Crown has told the court that Alahakoon and Sawal had visited Mr Battelage - who had recently been having an affair with a woman they knew - on the night he died.
All three went to Oxford Working Mens Club where they drank and watched cricket on TV, before returning to his home.
Mr Battelage then sent text messages to friends, saying "something going wrong".
His badly charred body was found by firefighters later that morning.
The Crown says that the movements of Alahakoon and Sawal that night were captured by CCTV and security technology.
They dumped their clothes, which had the victim's blood on them, outside a red zone property, the Crown alleges.
The defence counsel of both accused say the other was responsible.
Alahakoon is also charged with assaulting a woman, who has name suppression, with a pair of scissors on December 5, 2011, and again on Boxing Day that year.
A woman, who has name suppression, today told of a series of text messages between her and Sawal on the night of the alleged killing.
Sawal texted her into the early hours of February 23, saying he was "with friends" and would be home soon.
The trial, before Justice Christian Whata, continues.
- APNZ