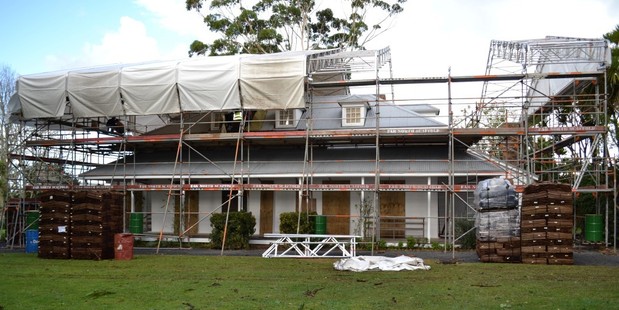 New Zealand's second-oldest building has been temporarily closed to the public.
Te Waimate Mission, built in 1832 and now in the care of the Historic Places Trust, is being re-roofed with wooden shingles, which northern heritage destinations manager Natalie McCondach said would recapture some of its distinctive character and charm.
When the house was built it was roofed with kauri shingles. It was re-clad with corrugated iron in 2001 to keep it weathertight and to aid in its preservation. That roof had done its job, Ms McCondach said, but no system was perfect and in recent times parts of it had begun to leak. The solution was to reinstate the shingled roof.
"Because it's not practical or cost-effective to use kauri shingles we'll be re-roofing the building with western red cedar shingles," she added.
"Cedar has the advantage of fading back to a very similar colour to kauri shingles in a short period of time, and the shingles are more durable; we can expect at least 20 years of life out of them. We've had very good results using cedar shingles with the Stone Store at Kerikeri."
Re-roofing one of New Zealand's oldest buildings was not entirely straightforward, however. The house had some wonderful items in its collection, and with the roof coming off these had to be carefully wrapped and securely stored.
A giant canopy had been erected over the house to protect it from the elements as the existing roof was removed, the job of laying the new shingles going to Kaikohe firm Henwood Builders, who re-shingled the Stone Store in 2011.
Te Waimate Mission will open again in early September and be back to regular opening hours in time for the summer season.
"Some visitors remember how stunning Te Waimate Mission looked with its shingle roof in previous years, and we're looking forward to seeing some of that magic restored to this beautiful building soon," Ms McCondach said.
- The Northland Age