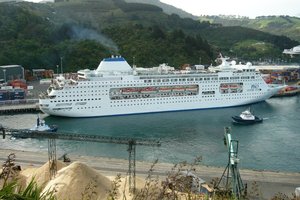 Dunedin's reputation with cruise lines is among the world's worst, and behind the soured image are badly behaved tour operators, Cruise New Zealand says.
Complaints have been made about tour operators fighting among themselves, sleeping in vehicles to secure prime positions and being abusive to cruise passengers at Port Chalmers.
Port Otago has banned operators from the wharf for the next summer cruise season.
Cruise New Zealand chairman Craig Harris said allowing tour operators to solicit business on the wharf at Port Chalmers "perplexed" cruise lines.
"Nowhere else in the world are tour operators allowed on the wharf, and for good reason," Mr Harris said.
Cruise lines paid to berth at ports and expected a high level of security for passengers and crew.
They also expected passengers to be able to move freely between cruise ships and destinations without being harassed by tour operators, Mr Harris said.
No other ports in New Zealand allowed private tour operators on wharves.
Port Otago commercial manager Peter Brown said a "small minority" of tour operators were at fault.
Up to 47 tour providers accessed the wharf each cruise day during the 2012-13 season.
But the season was "the worst on record" for operator behaviour on the wharf.
Port Otago received complaints directly from passengers, cruise lines and other tour operators, as well as an expression of concern from Cruise New Zealand.
Some operators "presented poorly" after sleeping in their vehicles outside Port Otago gates, fought among themselves, abused passengers, delayed tours to secure more passengers and changed tour itineraries after passengers had paid for specific tours.
Some taxi drivers accessed the wharf as taxis then changed their operation to tour providers, Mr Brown said.
It reflected badly on Port Otago, as well as Port Chalmers and Dunedin as a cruise destination, he said.
"The key thing for us is we have to provide a good experience for passengers and present a good front for Dunedin and Port Chalmers."
From October i-site staff will operate a marquee on the wharf to welcome passengers and organise tours.
They will collect payments, take a 12.5 per cent commission and call tour operators to pick up paid passengers.
Before the season starts all tour operators must register and undergo "familiarisation" with i-site staff, detailing tour itineraries, employees, minimum party sizes and vehicles used.
They must comply with operating guidelines set by i-site staff and wait outside the port gate until called.
All passengers not already booked on train or cruise ship tours will be channelled through the i-site marquee when leaving the wharf.
To date, 84 cruise ship bookings had been confirmed for the coming season. Last season comprised 89 bookings.