Ex-students post messages of support for computer engineer and rest of Nina crew.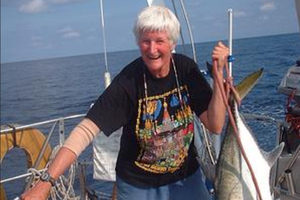 Former students of well-known computer engineer Evi Nemeth have posted messages of support online in the hope that she and others missing on the yacht Nina are found safe.
Many have expressed their shock that Ms Nemeth, 73, was on board the classic racing yacht that has not been heard from since June 4.
The 21m Nina left Opua in the Bay of Islands on May 29 and was heading to Newcastle, Australia, but hit rough seas, leading to fears it has capsized with its seven crew lost at sea.
The search for the crew is being led by the Rescue Co-ordination Centre New Zealand but despite an extensive sweep of the area nothing has been found.
Ms Nemeth taught computer science at the University of Colorado for many years and wrote several books on computer system administration and networks. But she also had a love for sailing: her LinkedIn profile says she has no occupation and is currently "sailing the Pacific".
On one forum at the weekend a former student wrote: "... she never hesitated to find a smile or a laugh. So if we've lost her - and I hope we haven't - then we've not only lost someone who's been the mentor to an entire generation of system admins, we've lost a unique, wonderful, fascinating person."
Another hoped there would be good news. "Evi: desperately hoping you're in a liferaft somewhere and will get to laugh your laugh at some of the kids posting here today."
It was Ms Nemeth who contacted New Zealand meteorologist Bob McDavitt on June 3 asking for advice on how to get away from the weather. She texted the next day asking for an update on conditions.
Rescue centre spokeswoman Sarah Brazil said an air force P3 Orion left Whenuapai Air Base about 7.15am yesterday but returned without seeing anything relating to the missing yacht.
"They've searched throughout the day without any sign of the liferaft or the missing schooner. They haven't seen any items of interest."
Search and rescue officers now had to assess what had been done so far before they determined what course the rescue effort took.
Ms Brazil said the air force plane searched an area of about 3300sq nautical miles.
The search area is about 125km east-northeast of North Cape.
Nina is owned by American David Dyche, 58, who was travelling with his 60-year-old wife, Rosemary, their son David, 17, a 35-year-old British man and two other United States citizens, an 18-year-old woman and 28-year-old man.