Samoan minister challenging for top job to secure a 'liveable city' for Pacific people.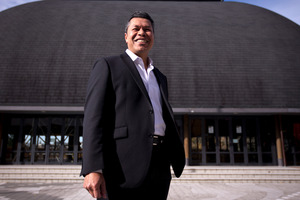 Auckland Mayor Len Brown is facing a mayoral challenge from the head of the council's Pacific Peoples Advisory Panel, the Rev Uesifili Unasa, who says nothing has been delivered for Pacific people in the first term of the Super City.
Mr Unasa said it was not personal taking a tilt at Mr Brown, who has been revered among the Pacific community.
Pasifika votes helped Mr Brown to beat John Banks in 2010 to become the first mayor of the Super City.
He appointed Mr Unasa to the Pacific Peoples Advisory Panel, but the Samoan Methodist minister said it had not been heard and had come to nothing.
He said Pacific voters would be asking whether life was better under the current leadership and "is it really a liveable city for Pacific people?"
The SkyCity pokies-for-convention-centre deal, supported by Mr Brown, illustrated a lack of caring for Pacific, Maori and Asian communities, and the Southern Initiative - a council plan to address housing, education, health and other issues - made good PR but had no money.
"We haven't seen anything delivered," said Mr Unasa, the chaplain at Auckland University and a West Auckland resident.
Mr Unasa joins businessman John Palino and veteran activists John Minto and Penny Bright in seeking to take the mayoralty from Mr Brown.
The mayor beat Mr Banks in 2010 by 66,000 votes.
Mr Unasa said choosing to run for mayor was a decision based on wanting to see better outcomes for Pasifika and other diverse communities.
"Pacific peoples have a particular set of issues that are uniquely Pacific but in many ways reflect issues for every family and community in Auckland. That is, being represented, having their voices heard, and their aspirations met.
"Pacific communities desperately need voices and policies that address the acute and serious issues confronted by Pacific communities."
Those issues were poverty, social housing, education and job opportunities, he said.
Mr Unasa is standing as an independent and although a man of the church, he studied politics in the early 90s.
He described himself as a "kind of lefty" who was very much community-minded.
Mr Unasa is not talking a lot about policies yet, but in terms of the Unitary Plan is proposing to extend the time of consultation with communities as well as looking at having the appeal process remain.
He wants more support for Auckland's elderly, youth and ethnic groups and would also move to drop ethnic-based council advisory groups.
"I've been in the Pacific Advisory Panel for three years now and nothing's come out of it. So if our views aren't being heard, then I don't think it's fair for the taxpayer. So yes, they would go."
When asked how he felt about going up against Mr Brown for the mayoralty, he paused for a long time before answering.
"This isn't personal. It's not to undermine the commitment and integrity and achievements of the mayor for Pacific people."
One of the biggest concerns that illustrated a lack of caring for Pacific, Maori and Asian communities was the proposal for a new convention centre at SkyCity casino, Mr Unasa said.
"Is supporting a bigger casino with more pokie machines consistent with the vision to make Auckland a liveable city for Pacific people?
"We are accentuating a culture that legitimises gambling through the mayor's support for more pokie machines and a flash convention centre. That encourages people to say that gambling is okay."
Last night, Mr Brown said he welcomed an open contest and a good debate on the issues facing Auckland. He refused to discuss the issues raised by Mr Unasa about the lack of progress for Pacific people under his leadership.
The candidates
Len Brown: Current and first SuperCity mayor.
John Palino: American millionaire businessman who says Len Brown's policies have driven him to politics. Is known as host of TV show The Kitchen Job.
Rev Uesifili Unasa: Chairman of Auckland Council's Pacific Peoples Advisory Panel and University of Auckland chaplain.
John Minto: A member of the Mana Party and a veteran activist.
Penny Bright: Long-time activist and well-known protester in Auckland.