Parents, teachers have mixed views on ministry's check-up.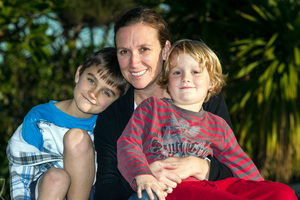 When Tristan Cosio started school a fortnight ago he was ready and prepped. New school bag? Yes. New lunch box? You bet. Big brother to look after him: Absolutely. Ministry of Health B4 School Check? No.
The 5-year-old's mother, Sarah Cosio, declined the free check, deciding he'd already had enough checks through his kindergarten and GP, and there were no behavioural or developmental problems to worry about when he started at Waitakere Primary School in West Auckland.
"I think the checks are a good thing," Cosio said. "I did one for my eldest boy Toby when he was four, and it just seemed like ticking a whole lot of boxes.
"But our kindy's so good, our GP's on to it, and Tristan is my second child so I knew he was on track and I decided not to bother."
She did know of a girl who had the check, was referred to a specialist and found to have a serious developmental condition. "Her parents were glad they'd done it.
It was an important backstop in their case."
Cosio's decision bucks the trend, as the public appears to have embraced the programme Labour started in 2007. It went nationwide in 2009.
The health and development check aims to ensure children are ready when they start school. But the Herald on Sunday has learned the Ministry of Health can't tell what difference the programme is making. Some preschools are refusing to take part and some are skipping questions because they find them too negative.
The checks are managed by district health boards and include social and behavioural components completed by parents, early childhood educators and health workers.
Last month, Health Minister Tony Ryall announced a funding increase of $7 million over four years for the programme, taking the annual budget to $11 million.
The ministry's chief adviser for child and youth health, Dr Pat Tuohy, said research had been commissioned to check the reliability and validity of the "Strengths and Difficulties Questionnaire" but that wasn't available.
The national co-ordinator for the Christian Early Childhood Education Association of Aotearoa, Thelma Chapman, said the checks had positive aspects.
But many teachers were unhappy asking "negatively framed" questions about emotional and mental issues as the child was still developing.
"We like to look at what the child can do, not what they can't."
Education Institute president Judith Nowotarski supported the initiative but said early childhood services had ways of picking up on learning needs.
She said the language in the questionnaire should be changed to reflect the New Zealand context. One question she disliked asked whether the child was a "burden", which was not the way centres viewed a child, their whanau or the environment.
The only qualitative evaluation of the programme was done in Hawkes Bay in 2011. It showed behavioural issues tended to be more common in boys and in deprived families.

B4 School referrals, 2008-2013
• Vision and hearing rescreening: 39,582
• General practitioner: 11,787
• Other non-specified services: 11,818
• Eye clinic, optometrist, ophthalmologist: 8512
• Dental: 7604
• Ear nurse, audiologist: 6970
• Special education services: 2930
• Public health services: 1499
• Parenting programmes: 1289
• Child development services: 521
• Paediatrician: 497
• Immunisation: 334
• Dietician: 191
• Mental health services: 109
• Neuro-developmental therapist: 6