Hymns sung and wreaths placed at Mangere graveside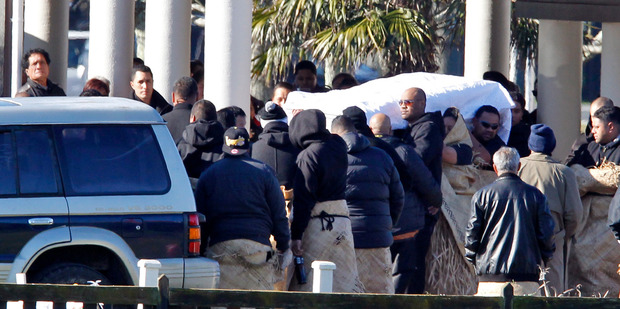 Every other day of the year Jonah Lomu, is a rugby legend. Yesterday he was a son burying his father.
Semisi Lomu died after a long illness on Wednesday at Middlemore Hospital in Auckland.
Steeped in Tongan tradition, Semisi Lomu's farewells included ceremonies at his Mangere home where mourners paid their respects in a specially erected marquee.
Yesterday, beneath a cloudless sky, the ceremonies moved to Mangere Lawn Cemetery where about 250 mourners gathered, many wearing "ta'ovala" or woven mats tied around their waists.
Following a service at the cemetery's chapel, a black-clad Jonah Lomu helped carry his father's casket to his final resting place.
After speeches and stirring hymns, the solemn rugby great and other male mourners used shovels to fill Semisi's grave. Huge wreaths and bouquets were placed on top.
Jonah was estranged from his father for many years. In July 2009, Jonah told the NZ Woman's Weekly the birth of his own son Brayley and pleas from his partner Nadene persuaded him to end the 17-year rift with his father.
"It hit me that I was going to be a dad too," he said. "I was heading to Auckland Airport on my way back to Wellington and I called in."
His dad could hardly believe his son was walking towards him after so long. Semisi wrapped his arms around Jonah, hugged him and said emotionally, "I never thought I would see you again. I thought I'd die without seeing you."
Semisi Lomu had diabetes, kidney, liver and heart problems and had been so ill he wasn't expected to live beyond 2010, but in 2011, when Nadene and Jonah married, Semisi and Jonah's mother Hepi were among the guests.
On Wednesday, Jonah tweeted that he would miss his father and he loved him.