Helicopter to rescue after boat-builder's disc smashes through his face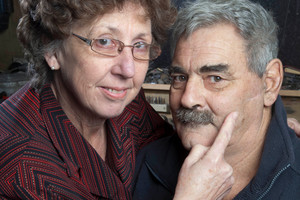 You have to look carefully to see traces of the close shave rugged do-it-yourselfer Peter Stampa had last summer.
He looks shipshape after plastic surgery - and finally has the blood off his workshop floor. Yet every day, Peter and his wife Glenys are grateful he can still tinker away.
Stampa was working last November in his workshop in Tapu, on the Coromandel Peninsula.
"I was building a boat. I've got these little wee, fine-cutting discs.
"If they get dropped or damaged, they have a tendency to fly to bits."
Stampa, 65, was soon in deep trouble as a disc disintegrated and a fragment the size of a 10c piece blasted through the side of his face.
"A piece of grinding disc went in my head. It went up the side of my cheek and chewed up my ear on the way through, and cut veins in there."
He was wearing safety glasses but the shard struck below them.
Stampa's reaction was to hold his ear, if only to stop it falling off his head. But blood kept gushing from severed veins.
"The biggest problem was stopping the bleeding. As soon as you put pressure on it, it crunched my mushed-up ear, which hurt like hell."
Hearing the commotion, Glenys rushed to the workshop. "Peter was walking towards me with his towelling hat covering the left side of his face and blood just pouring through."
Glenys reached for the phone and the Westpac rescue helicopter from Auckland was summoned.
Stampa said a neighbour, Lesley Russek, had driven over to help. "Between us, we got Peter into the house and laid him down on the couch and just waited."
Relieved at getting Stampa on the flight to Waikato Hospital, Glenys said she appreciated riding up front beside the helicopter pilot. At the time, she thought: "This wasn't on my bucket list but now it is and I'd better enjoy it."
Stampa was in hospital for a few days and downplays his injuries but Glenys, a former nurse, knows how close he came to death. "Had it been his artery, he probably wouldn't be here."
The Stampas are keen to encourage others to donate to charity-assisted services - including the helicopter trust.
Glenys said: "Anybody who lives in a rural location should be part of it."
The rescue will feature in an episode of new TV2 show Code: 1 on Thursdays at 8pm. Producers said camera operators used cutting-edge, wearable cameras to get a closer view of rescues. Trained emergency department doctors also joined the crew.

• The Code: 1 team is part of Auckland Rescue Helicopter Trust, on call 24 hours a day. Each call-out costs on average $5,000. To donate $3 to the Westpac Rescue Helicopter, text CHOPPER to 5339.