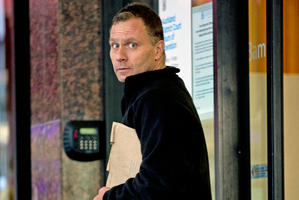 A father has been convicted and discharged for failing to look after his daughter in dangerous surf - after a teenage hero drowned trying to save her.
Zebedee Pua, 15, drowned at O'Neill Bay, west of Auckland, in January last year after helping to rescue the 8-year-old girl.
The girl's father, Martin Reichs, was yesterday convicted at the Auckland District Court for failing to provide the necessaries of life to his daughter.
The unusual case rested on whether Reichs adequately kept an eye on his daughter as she swam.
One legal expert said he was surprised the charge was taken to court and questioned the public interest in pursuing it.
The court heard how Reichs had decided to take his 11-year-old son and daughter to O'Neill Bay after noticing a rip at nearby Bethells Beach.
Reichs' daughter was swimming on her back and called out. Zebedee swam out and reached her but also got into trouble.
Reichs dived into the water and reached his daughter. He helped her back to the rocks but when he returned for Zebedee, the teen was gone.
Judge Grant Fraser said Zebedee's death would be a burden Reichs would carry for the rest of his life.
But he said his sentence had to focus on Reichs' "inadequate supervision" of his daughter. He also ordered Reichs to do voluntary community work.
Outside court yesterday, Reichs was asked if he had turned his head away while his daughter was in the water.
"I didn't turn my head away," he said. "I just didn't recognise the situation for what it was."
Zebedee was at the beach with his family when he heard the girl's cries for help. He disappeared under the waves and his body was found five days later.
His father, Andre Pua, told the court of the pain of losing his son as he and his family searched the area later that day.
"I felt like I wanted to jump into the water to be with my son, to take my life away. I felt overwhelmed. Why did this happen to my family, my son?"
But looking back at his family on the rocks gave him a sense of purpose.
"At that moment I knew I could not jump into the sea. My family needed me."
He said the hardest part was identifying Zebedee's body.
Mr Pua said he was hurt when Reichs did not approach the family following the funeral of the promising teen.
"My son said he wanted to be a doctor. It wasn't a dream - it was his goal he had set at the age of 12."
Mr Pua also spoke of his son's skills on the rugby field and his achievements while playing for junior rep sides.
While he knows he has to get on with his life, the grief will always be there. "I wish [Reichs'] daughter the very best in life. My son's actions have given her a second chance in life ... "
In sentencing, Judge Fraser said Reichs had taken part in a restorative justice conference with the Pua family.
"I record nothing can ever compensate Mr and Mrs Pua, or their family, for the loss of their beloved son," the judge said. "He was a hero. He was a young man of a great backbone risking and losing his life to save another."
Reichs had also paid $4000 towards the cost of Zebedee's tombstone and had visited the grave side where he had left a card and flowers to say thank you to the teen.
Auckland University law professor Warren Brookbanks was surprised Reichs had been charged.
"It's very unusual, particularly given the fact she was ultimately rescued ... Normally that would apply when a parent had a duty towards a child [and that] would be triggered when there has been loss of life caused by that omission."
In Reichs' case it was even more unusual because he was instrumental in the rescue. "So where does the allegation of failing to provide necessaries come in?"
Mr Brookbanks said there were specific duties under the Crimes Act relating to obligation to protect children. "So I suppose you could read out of it any one of a number of provisions - an obligation to provide necessaries that extends to a duty to protect - but normally the obligation to provide necessaries relates to things like food, medication and clothing."
A duty to protect was something independent from the obligation to provide necessaries.
Under the Crimes Amendment Act 2011 any parent has to take "reasonable steps to protect that child from injury", but Mr Brookbanks told the Weekend Herald he was surprised the matter wasn't contested at a trial.
"You'd think the police would have better things to do. There's a man who is with his child, maybe is being a bit neglectful, child gets into difficulty, he gets assistance, helps the rescuer, the rescuer loses his life. I mean what's the purpose of prosecuting a case like that? What's the public value?"
- Additional reporting: Andrew Koubaridis