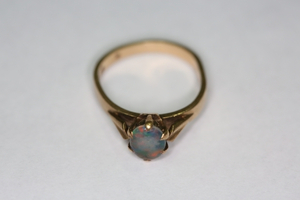 A letter full of contrition sent to Tauranga police has proven that not all criminals are without a conscience.
Staff at the station were surprised to receive a pair of rings in the mail with a note from the person who stole them.
"I've never had anything like this before," a baffled sergeant Carolyn Crawford-Smith said.
"It's not something we usually get, people sending in jewellery and saying 'I stole this'."
The letter writer wrote how she had taken the rings from a cafe in Tauranga's Goddard Centre mall when she was 14, but now felt awful about what she did.
She wrote: "I feel terrible for what I've done and discusted [sic]. I am very sorry for any inconvenience caused."
Ms Crawford-Smith applauded the gesture.
"We were just like, good on her. It's quite nice that someone's had a change in conscience.
"Obviously, they'd done it when they were 14 and they're very remorseful about it now ... and I think they've really turned a corner."
The only problem was the letter left no clue as to the thief's identity, or that of her victim.
She also can't find any trace of the cafe named in the letter and the mall owner has no memory of its existence. And because the thief failed to disclose her age, Ms Crawford-Smith has no idea when the theft took place.
"We can't find any reports on it. And because we don't know old she is now, I'm looking for a needle in a haystack, basically."
She hoped the thief would phone or visit the station to help clear the mystery up.
"If we could return [the rings] to the owner, that would be fantastic. We'd be happy, the owner would be happy and obviously the person who sent them in would be happy."
Anyone with information was asked to phone Tauranga Police on (07) 577 4300.

Confession time
To whom it may concern,
I took these rings when I was 14.
I am now much older and know this was an awful thing to do. I should have handed them in a long time ago.
I am handing them into you with the hope that they will find their rightful owners ...
I am very sorry for any inconvenience caused.
- Extracts from a note a contrite thief sent to police in Tauranga.