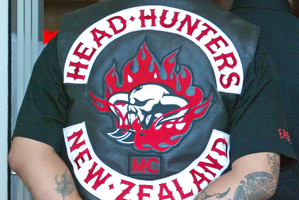 A charity linked to the Head Hunters gang has won a legal battle with a government department for permission to run a lottery with a $50,000 prize.
The That Was Then, This Is Now Charitable Trust has successfully appealed a decision by the Department of Internal Affairs to refuse a gambling operator licence.
The trust has previously been granted permission to run the lottery seven times at events held at the headquarters of the East Auckland chapter of the outlaw motorcycle gang.
It was set up in 1999 with two senior patched members, who cannot be named for legal reasons, as founding trustees.
The trust deed states it wants to be a bridge between prison and the community by integrating former inmates into society through fitness and sport.
But the department refused the most recent application to run a lottery on grounds that the officers of the trust were not suitable to hold a gambling licence.
Among the reasons given was the "close association" between the trust and the gang, including having the same address which the department said posed a "risk" that the lottery could be used for money laundering.
"A raffle has the potential to be misused as a vehicle for the laundering of cash acquired from illegal activity (such as drug sales)," says a police report to the department.
"The proposed raffle would have the effect of limiting the number of tickets needed to be sold to legitimate ticket buyers and any significant cash subsequently located can be explained away as being takings from the sale of the raffle tickets."
The report also noted that $1 million of methamphetamine had been found at the West Auckland chapter of the gang.
An appeal was lodged to the Gambling Commission by lottery organiser Evelyn Stanley and trust treasurer Frederick Webb, neither of whom have any criminal convictions.
They said the suggestion money laundering was "possible" was speculative and ignored evidence that the trust functioned properly as a charity, including the seven previous granted lottery licences.
"This evidence includes the submission of audit reports to (Internal Affairs) following each lottery and supervision of previous lotteries by the police."
The appeal documents said Internal Affairs was entitled to rely on information from the police but not to "adopt the police view uncritically".
The appeal was heard by Chief Gambling Commissioner Graeme Reeves, who said the Commission would "prefer to see more distance" between a lottery applicant and a motorcycle gang but he was "not dissatisfied" with the trust's suitability.