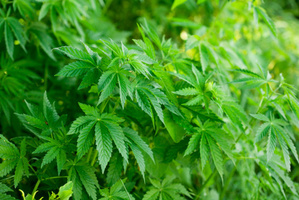 A Westport man has told a jury the 8.5kg of cannabis police found in his home and vehicle was all for his own use.
But a police expert says it would take two and half years for the man to smoke just 1.5kg of the stash.
Appearing in Greymouth District Court this week, Ian Alfred Cole, 58, admitted a charge of cultivating cannabis - 20 plants, in various stages of maturity, were growing in a bedroom - but pleaded not guilty to two charges of possessing cannabis for sale and one of possessing LSD.
The law decrees that anything over 28g (1oz) of cannabis is presumed to be for sale.
Cole had 1436g of cannabis head; much of it in bags labelled with their respective weights; in backpacks, plus 6kg of cannabis leaf in a freezer.
Detective Barry McLaughlan, with 33 years on the force, the past 11 years in specialist drug enforcement, said the cannabis head would have had a street value of about $16,000 and take an addict smoking five to six joints a day over two years to consume, but Cole's grow-room was capable of producing three crops a year.
The large quantity plus the fact that it had been packaged in pound, ounce and half-ounce bags suggested it was for sale.
"People growing for personal use just stash it in a loose bag, they have no need to break it down."
The charges relate to searches of Cole's car and house on June 25, 2011.
A constable conducting random vehicle inspections near Murchison pulled over Cole's vehicle. As the window was inoperable Cole opened the drivers' door, presenting the officer with a strong whiff of cannabis. A resulting search of the car revealed a small amount of cannabis, tweezers, three tabs of LSD and a small set of scissors in a metal container.
A tobacco pouch contained 3g of cannabis and a backpack on the back seat held a number of self-sealing plastic bags full of cannabis head, each labelled with its weight. A supermarket bag was also full of cannabis head, taking the tally from the car to 500g.
A search warrant was then executed on Cole's home, where a licorice bag held three self-sealing bags, each containing an ounce of cannabis, while a backpack held a further 936g of head and an old freezer was stuffed with 6kg of cannabis leaf.
Police also found digital scales, $2000 in cash, and a grow-room holding 20 new cannabis plants.
The Crown said that was far too much for Cole to smoke on his own, but in a short opening address to the jury, Cole said he had been using cannabis for medicinal purposes for 20 years and had a much higher tolerance for the drug than casual users had.
- APNZ