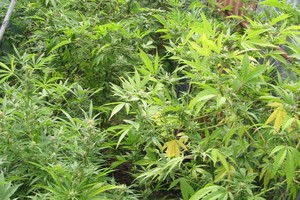 Stories making the headlines around the country today include a Westport man who claimed 8.5kg of cannabis police found in his home was for personal use and the iconic Rotorua Bath House will be the venue for some of New Zealand's first same-sex marriage ceremonies.
A man told a Greymouth District Court jury yesterday that the 8.5kg of cannabis police found in his home and vehicle was all for his own use.
Rotorua's iconic Bath House is where two of the first gay marriages in New Zealand will take place.
A judge has called on Northlanders to take action and reduce high rates of murder and other violent offences in this region.
Three packets of soup cost a Masterton man more than he bargained for.
A large litter of highly infectious kittens has been taken to an Auckland animal-rescue shelter.
From Monday, all Lotto stores around New Zealand will be banned from selling "legal highs", but Wanganui's retailers are way ahead of them.
Looking for work? Bay of Plenty could be the place to go with the average salary on offer jumping 6.4 per cent since January.
The biggest parade ever held in Whangarei rolls across Te Matau a Pohe bridge on July 27.
A bid has been made for a commercial consortium to restart rail freight services on the East Coast line.
Bay residents will have to dig deeper into their pockets this year, with rates rises announced across the board.
Hamilton's St John's College musical hopes will rest on the shoulders of Chocolate Milk Homicide - the home-grown, rock 'n roll trio - making a run in this year's Smokefreerockquest regional finals.
Other stories making the headlines:
Sons of Zion to meet Rehua Selwyn
Revival of optimism across the region
Central Hawke's Bay farmer and farming industry leader Mike Petersen has been appointed as a trade envoy
Maori musician and former Makoura College boy Matiu Te Huki will be coming back to his roots
Cassie Emmett is a birth photographer