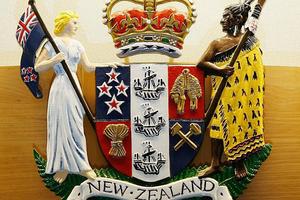 One of three men on trial for the murder of Tauranga businessman Gary Kimura in 2011 has pleaded guilty to manslaughter following legal arguments.
Joseph Rewiri, 45, of Auckland, pleaded guilty to one count of manslaughter in the High Court at Hamilton yesterday after he asked to be re-arraigned on the reduced charge.
Taonui Hiku, 27, of Tauranga, also had a murder charge he faced reduced to manslaughter, while a murder count for Witeri Ahomiro Neketai, 35, of Te Puke, still stands.
A fourth man, Jesse Christopher Hartley, 28, of Mount Maunganui, who was also on trial charged with manslaughter walked free from court after Justice Tim Brewer discharged him.
The Crown had alleged Mr Hartley, who was charged as secondary party, drove the group to and from Mr Kimura's home, and was there during his savage beating on October 5, 2011.
The court heard Rewiri, who was in prison at the time of the attack, gained access to a cellphone and contacted Neketai, requesting he collect a debt of more than $30,000 from Mr Kimura.
The Crown alleges Neketai attacked Mr Kimura after Hiku lured him from his house. Neketai is accused of punching Mr Kimura so hard he fell backwards, hitting his head on a concrete driveway, before kicking him in the face, possibly more than once, causing massive head injuries.
Mr Kimura was found lying face down on the concrete at the bottom of some steps in a pool of blood by his wife, Rosina Kimura.
The jury has heard his injuries included a fracture to the left side of his skull that extended along the side of his head to the left eye socket, and extensive bruising and swelling to his face.
Mr Kimura died six weeks later in Tauranga Hospital on his 44th birthday.
Justice Brewer suppressed the reasons why the charges were reduced to manslaughter for two of the accused and has barred publication of the reason why Mr Hartley was discharged.
Rewiri will be sentenced in the High Court at Hamilton on August 16.
Hiku and Neketai have chosen not to call evidence, and the trial was to continue today with closing addresses by their lawyers and the Crown. Those would be followed by Justice Brewer's summing up before the jury would retire to consider its verdicts.
For more articles from this region, go to Bay of Plenty Times