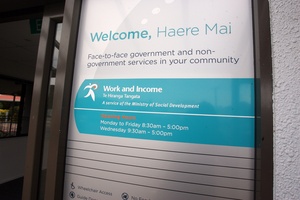 Work and Income will trial new public service kiosks after its self-service kiosks were closed last year after a major privacy breach.
Winz deputy chief executive Debbie Power confirmed the new self-service kiosks will be publicly trialled in its Willis Street site.
She said subject to a successful trial the kiosks will be progressively rolled out in other sites nationwide from next week.
In October last year blogger Keith Ng revealed up to 700 kiosks, located in Winz offices across New Zealand and linked to 1500 Ministry of Social Development servers, were unsecured - meaning clients' private information was fully accessible.
Mr Ng was able to access 7300 files and the privacy of 1432 people was breached, including eight children and two adults whose privacy was seriously breached.
At the time ministry chief executive Brendan Boyle said he was "gutted" and "sorry" about the breach after the Deloitte review concluded the ministry was first told about security flaws in April 2011, six months before the kiosks opened.
The independent report found security was not adequately considered in the design and implementation of the kiosks.
Ms Power has give assurance the new kiosks would be totally separate from the ministry's networked IT system, and have been rigorously tested by independent security experts.
"ICT company Gen-i has developed and tested the kiosks. While no IT solution has zero risk, we've taken every possible step to ensure they're as secure as possible.
"We've struck a balance between providing a tool for our clients to access our online services while protecting client information."
Clients will be able to use the kiosks to do a range of functions like apply for financial assistance, log onto their Winz account or My Study Link account and search for jobs online.
"We will continue to increase functionality in the future when we can be confident that we can do so safely."
The Ministry of Social Development commissioned Gen-i to design, build, test, and rollout the 780 kiosks across New Zealand. This will start in the larger Work and Income sites in the main centres from next week, with kiosks progressively activated in other sites over the next month.
- APNZ