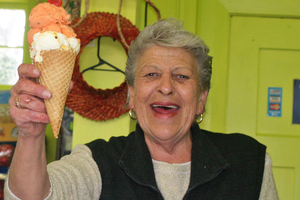 Four boys will have to answer to an upset Far North community after allegedly breaking into a much-loved woman's home and business while her family was mourning her death just 24 hours earlier.
Te Kao identity Bonnie Conrad died in Whangarei Hospital on Saturday aged 65.
She had worked for many years in the Department of Labour in Kaitaia, where she became known for her compassion and willingness to help anyone who needed it, and more recently ran the Te Kao Store.
Houhora police Senior Constable Tracee Knowler said Mrs Conrad's death was a massive loss for Te Kao and the Far North.
Ms Knowler said Mrs Conrad had a huge personality and calling into the store would not be the same without hearing her voice in the background.
"She helped many people over the years, locals and travellers, and most went home with their stories of the legendary ice-creams," she said.
Adding to the family's loss, four boys aged 13 to 17 broke into Mrs Conrad's home while most of the Te Kao community was at the marae with her on Sunday night. They also broke into the store and another house, just 24 hours after her death.
"This is shocking behaviour," Ms Knowler said.
"The only redeeming factor is that whanau of the four offenders located the boys, got the full story from them and have put them forward to be held accountable for their actions."
Ms Knowler praised the actions of the boys' families, who delivered them to her doorstep at the station before she even knew the burglaries had taken place.
She hoped the example they had set would deter others from committing burglaries.
"They have been forthcoming to me about their actions, however this in no way makes amends for their actions. They will have to answer to their community for that," she said.
Almost all the stolen property had been recovered and she expected to get the last few outstanding items yesterday.
She was planning to let the families decide how the boys should make up for their actions, with the option of laying formal charges as a last resort.
"That's something Bonnie would've wanted," she said.
For more articles from this region, go to Northern Advocate