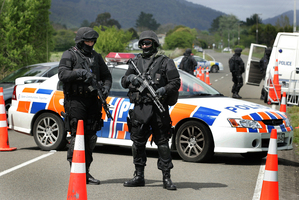 Maori Party whip Te Ururoa Flavell will call for an inquiry into the impact Operation Eight had on Ruatoki residents.
Mr Flavell said he would present the Maori Affairs Committee with terms of reference for an inquiry next week, into the impact the raids had on people.
Chair of the Maori Affairs committee Tau Henare said he had asked Mr Flavell for the terms of reference by the end of the week so they could be taken to National Party caucus next Tuesday.
If National agree to them, the inquiry would go ahead.
Mr Flavell said during a Parliamentary general debate that the trauma of many people who were raided had not be heard, and he was collecting statements from those affected.
He received a letter of complaint from veteran Tuhoe activist Tama Iti on behalf of his partner and his 17-year-old daughter.
In the letter Mr Iti, who was found guilty of firearms charges, said the family were asleep and were unaware 14 police officers from the special tactics group and Armed Offenders Squad had cordoned off the address.
Mr Flavell told Parliament Mr Iti was arrested and the two women were separated from each other and searched.
"The older woman was in a nightgown; the younger woman in a thin singlet and shorts. She remembered later feeling ashamed, embarrassed and bursting out crying.
"After being detained, the two women were taken to the police station, separated again and statements obtained. They were still in their nightwear - cold and for the older woman who was diabetic, requiring her insulin and testing kit," Mr Flavell said in the house.
Independent Police Conduct Authority (IPCA) chairman David Carruthers' wrote to Mr Iti and his family this year.
He wrote: "being woken in the early morning by armed officers shouting for them to come out of their house with their hands on their heads, having guns trained on them, a dog barking throughout, being barefoot and only dressed in nightwear and scared about what was happening to them ... these actions.. personally searching them in an intrusive manner and taking them to the police station were contrary to law".
Mr Henare said in eight weeks the Tuhoe settlement bill will before the house, and could incorporate an apology.
Last month an IPCA report found in some areas police acted "unlawfully, unjustifiably and unreasonably"during the raids.
Police Minister Anne Tolley apologised for unlawful road blocks and searches during the Urewera raids, but deferred any Government apology as a matter for the Prime Minister and his advisers.
Mr Carruthers said in the report the detention of the occupants at five properties of the 41 properties raided was "unlawful and unreasonable".
Police were also criticised for the unnecessary stopping and searching of vehicles and taking 66 photos of drivers and passengers, including children. It left some people feeling "degraded and intimidated".
The 2007 raids resulted in 18 people being arrested, four of whom were left facing charges.
Police Commissioner Peter Marshall apologised for mistakes made by police by not for the investigation, which focused on alleged military-style training camps in the remote Urewera forest.
- APNZ