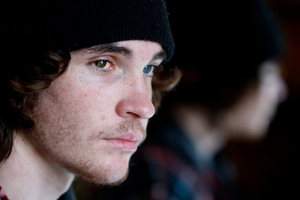 A moment of madness has left a young Northland man with a lifetime injury and blind in one eye.
Dillon Wihongi, 20, let off a few rounds from his paintball gun, thinking he was going to scare a group of young people standing around on a driveway.
Instead, he hit 17-year-old Jaden Rowland in the right eye.
The paintball pellet didn't explode and bounced on to the concrete. But Jaden clutched his bleeding eye, which instantly swelled.
Six months later, after intensive eye treatment and surgery, Jaden has been left blind in his right eye.
Now Wihongi has been ordered to pay Jaden $1000. Unemployed, he's paying his victim $20 a week. His debt will be cleared in a year, but Jaden has been left with a lifelong injury that wrecked his chances of joining the Army.
"I don't really know what I'm going to do now. It cuts down my options," Jaden said.
Wihongi appeared in the Whangarei District Court on Monday for sentencing after pleading guilty to a charge of careless use of a firearm causing injury on January 26 this year.
Jaden's life-changing moment happened on the driveway of a Tikipunga home about 5pm.
Jaden and about six friends were chatting when Wihongi arrived in a car and decided to fire paintballs at the group.
Wihongi said he just wanted to scare them but Jaden swung round at the wrong moment.
"I turned around and got hit straight in the eye," Jaden said.
Realising something was wrong, Wihongi got out of the car and carried out basic first aid and made Jaden get in the car and took him to Whangarei Hospital, where he spent nine days.
After months of treatment and an operation to remove blood from the back of his eye, Jaden has been left blind in the eye.
Mary Rowland said her son had been brave: "He's taken it in his stride now but it's going to limit what he can do in the future."
The family was unsure whether Jaden would keep his eye or it would have to be removed.
"One thing is for sure, he won't have his sight back again.
"The lesson is pretty simple - you just don't aim these guns at anyone."
Whangarei Hospital eye specialist and surgeon Wayne Birchall agreed and said paintball guns should not be used outside regulated facilities.
He had dealt with three patients in the last 12 months who had been struck in the eye by paintballs.
"Their sale should be regulated or licensed."
For more articles from this region, go to Northern Advocate