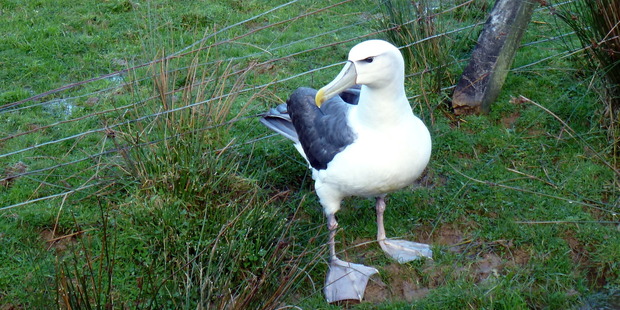 A large seabird, more used to the big blue ocean than wide green paddocks, ended up on a Taranaki farm at the weekend.
Most likely blown inland by the foul weather last week, the white capped mollymawk is reasonably rare, said Department of Conversation Whanganui biodiversity programme manager Jim Campbell.
The bird was reported to DoC and they searched for it on Monday night.
"We went out to try and find it," Mr Campbell said yesterday. "But it had flown the coop"
"It's rare to get something like this that far inland. It was probably a little bit storm battered and needing a rest, waiting for the energy to get up and go.
"We expected it to be still there but it had gone."
Mollymawks are in the albatross family, spending their lives at sea "on big oceans and enjoying big winds".
The bird weighs about 4kg typically with a wingspan of between 2.2m-2.5m.
Mr Campbell said they are a handsome bird. "They look really sharp if you get them in hand."
This one looked in good nick for its experience and didn't appear to be injured.
The birds are found around the Auckland Islands and other sub-Antarctic spots but are also seen in New Zealand waters, though not inland. Their conservation status is "declining".
"It's a real treat to see it," Mr Campbell said of the photographs the Sorensen family took of their visitor.
For more articles from this region, go to Wanganui Chronicle