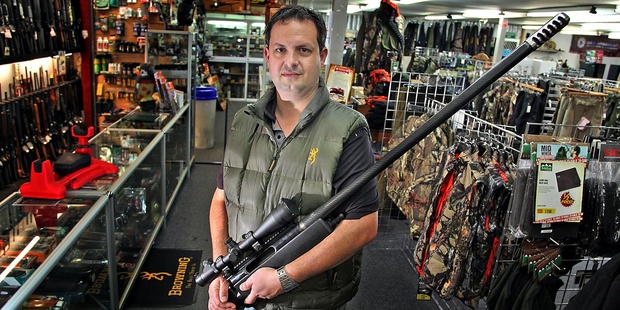 A group of Kiwis have developed a one-of-a-kind carbon-barrelled gun that can hit a target up to 2.5 kilometres away.
Weighing close to 10 kilograms and measuring just over 1.5 metres, the 100 per cent New Zealand-made gun materials and design knowledge were sourced from as far as Christchurch, Gisborne and Auckland, with the barrel technology developed in Bay of Plenty.
Glenn Tuck of Broncos Outdoors has been a keen shooter his whole life, competing as a clay bird shooter and now using his expertise to test the gun during its development.
The materials and labour that went into the gun cost $14,000 alone, and although being designed for static target shooting, Mr Tuck said it was not for sale and is intended as a show piece.
"Why don't we show the world what Kiwis can do? A lot of amazing things can come out of a small country."
This has not stopped growing interest in the gun at the downtown Tauranga store where it was being displayed.
"We've had a lot of interest, but most people just want to see it be shot," said Mr Tuck.
Hunting Aotearoa presenter Matua Parkinson visited the store yesterday morning and was impressed by the new addition.
"I saw it sitting on the bench and I thought 'oh my God'. It'd be great to take it out and have a go.
"Looks like a pretty impressive piece of machinery and that's what Hunting Aotearoa is all about so hopefully we can feature it on the show."
Although carbon had been used before in gun barrels in the United States, the gun featured a type of carbon only available in New Zealand.
The carbon was wrapped around the core steel barrel making it 14 times stronger than steel.
According to Mr Tuck, a 50-calibre gun of its size would usually be around 5kgs heavier.
"It's lighter, stronger and more durable. The carbon adds about 1500 rounds to the life of the barrel."
Mr Tuck said people were welcome to have a look, and depending on licences might be invited to try it out in the upcoming weeks.
For more articles from this region, go to Bay of Plenty Times