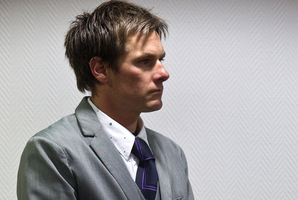 A Christchurch rebuild worker who helped his EQC contractor buy a $1 million cocaine consignment was today jailed for just over two years.
Cameron Lockie, 36, got caught up in the drug distribution ring dubbed "a Guy Ritchie plot line without the bloody ending".
But a judge today accepted the self-employed Wanaka builder was just the "link man" in the scheme.
Lockie says he felt pressured to supply the cocaine to his "help his friend in need", employer Brendan Clarke, who was "very much his superior".
Clarke, 37, was a self-employed builder with 16 staff, including Lockie, working as an EQC contractor inspecting damaged Christchurch homes.
Lockie, a father-of-two pleaded, guilty in the High Court at Christchurch last month to supply of the Class A controlled drug.
His arrest was part of a police operation dubbed Operation Gringo, launched after 3kg of cocaine was found hidden in a suitcase carried by Mexican David Negrete Nevarez, who arrived at Auckland Airport on December 13, 2011.
The next day, Lockie phoned a British mate, Daniel 'Poodle' McGannan, 28, who was living in London, and they began organising how to buy and sell the drugs.
Meanwhile, police picked up on the dealings.
Using covert surveillance techniques, the Organised and Financial Crime Agency watched Nevarez hand over the cocaine inside a suitcase to Auckland woman Samantha Margaret Gemmell, 27, who in turn passed it to Adrian Marquiss Kemp, 31, in a Mission Bay carpark.
Watched by police, Kemp transferred the suitcase to Wellingtonian Brendan Clarke, who agreed to find buyers for the cocaine.
A statement of facts said Lockie arranged for his friend Clarke to purchase the cocaine - with an estimated street value of up to NZ$1.2 million - for US$140,000 (NZ$172,000).
Once he picked up the cocaine in Wellington on December 18, 2011, Clarke texted Lockie the next day, saying: "Hey bro, heading down now. See you soon. See you for lunch and I will give you this dam (sic) case," to which Lockie replied, "Sweet".
They met at midday on December 19 outside the Kathmandu store on Blenheim Road in Christchurch where the suitcase was handed over to Lockie.
Police, who watched the drop-off under surveillance, then swooped and Lockie was arrested.
He was originally charged with importation, but told police that he had not been involved in, nor was he aware of the importation of the drugs until it was already in New Zealand.
Lockie pleaded guilty to a new charge of supplying the Class A drug in December 2011.
Nevarez, 43, previously pleaded guilty to importing and possession of cocaine for supply and was sentenced to seven years in prison.
Drug mules Gemmell and Kemp each pleaded guilty to one charge of possession for supply and were jailed for two years, six months and two years, 10 months respectively.
Clarke pleaded guilty to possession of cocaine for supply and will spend four years and eight months in prison.
McGannan was jailed for six-and-a-half years last month after also pleading guilty to one charge of supplying the Class A drug.
Today, defence counsel Pip Hall QC said Lockie was a reluctant player, feeling pressure from his boss, Clarke to carry out his crucial role.
From the dock today, an emotional Lockie apologised to his family - including his parents who had travelled down from Auckland for the sentencing - and the public for "pain and anguish" he had caused.
He begged Justice Christian Whata for mercy.
"I'm a good guy," he sobbed.
Mr Hall said he was never intended to be the final recipient of the 3kg of drugs - which had been cut down to contain just 10 grams of cocaine - and that it had "landed in his lap like a hot potato".
Lockie was at low-risk of reoffending, was hugely remorseful, and his wife was in a fragile state.
"He's ruined his life and the life of his family," Mr Hall added.
In sentencing Lockie for what was a "very serious" crime, Justice Whata admitted there was no evidence he was going to make any cash out of the deal.
That made him less culpable than others who were involved for commercial gain, the judge said.
But given the "horrible toll" drugs had on the community, he could never have considered a period of home detention.
He jailed him for two years and one month, saying: "You made a mistake I know you regret. But this does not define you."