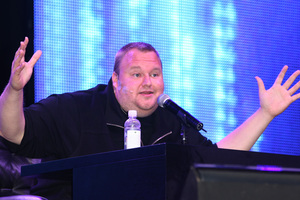 Kim Dotcom says any damages settlement with the New Zealand government will be ploughed back into developing the country's internet infrastructure.
He told the "Mega Breakfast" annual meeting of the Institute of IT Professionals he was currently involved with two investor groups and hoped to start work on a second submarine cable to bring faster internet to New Zealand within 12 months.
He also told the meeting he planned on getting involved in next year's general election campaign to improve government's handling of internet business and issues.
The internet entrepreneur urged the 200-strong breakfast meeting to lobby against current legislation which would give spy agencies more intrusive powers and require internet and telecoms companies to provide backdoor government access and approval for new technology.
Mr Dotcom also said he planned on getting involved in next year's general election - but wouldn't expand on how.
The Institute billed Dotcom's address, along with fellow Mega founder and co-accused Mathias Ortmann, as a chance to engage with those behind "New Zealand's largest tech start-up this year".
The pair told the gathering the revelations of mass surveillance by the United States' National Security Agency and its partners, including NZ's GCSB, had skyrocketed demand for Mega and its encrypted cloud storage system.
On the election, Mr Dotcom said: "I'm going to get engaged. I'm going to help as much as I can during the next election to make sure there is a government that takes the internet more seriously."
He took a swipe at Prime Minister John Key, saying he had traded involvement in the Megaupload takedown last year as part of the Hobbit deal, struck in 2010. He dismissed Mr Key's claim the spying law had been misunderstood, saying: "The law says you can't spy on New Zealanders. John Key stands in front of cameras and says 'we misunderstood the law'. How stupid can you get?"
Mr Dotcom said the discovery of illegal spying and other errors by New Zealand agencies had created a potential shift in responsibility for the Megaupload business, which he has previously said was worth billions of dollars.
"The potential settlement or damages situation has changed quite a bit since we discovered what went on. Potentially, at some point, we could go after the New Zealand government for full damages. I've said before I don't want to be a burden to New Zealand. The majority of that (settlement) would be reinvested in submarine cables, rural broadband."