Principal says early childhood centres sited and integrated with schools way of future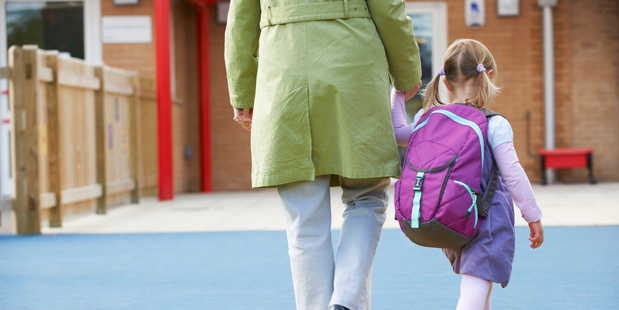 Parents should have the option to drop their 4-year-old off at school, says a principal who is set to open a preschool on his school's grounds.
Next month, North Canterbury's Amberley School opens a preschool, thanks to a partnership with an early childhood centre.
In recent years, a shift in Education Ministry policy has seen several private preschools set up on public school land, particularly in South Auckland, with more on the way.
But Amberley principal Kevin O'Halloran said he hoped it would eventually be mandatory for primary schools to have a preschool on site - and they should not be treated as separate organisations.
Mr O'Halloran is soon to travel to Australia to study how blurring the line between early childhood education and school could be applied to his and other schools in New Zealand.
He told the Herald that school entrance assessments showed more children were arriving at school without the necessary basic knowledge.
"There are still parents out there that read every night, but there are more and more that don't ... we wanted to investigate what models are working better, so these kids are hitting the boards running."
Preschoolers get 20 hours' free early childhood funding, but campaigners say poorer communities struggle with extra costs, transport problems and a lack of centres.
To help counter this, the ministry has supported several privately-run preschools on public school land, including at Weymouth Primary School and others in South Auckland.
By 2016 the Government wants 98 per cent of new entrants to have had some quality preschool education.
On a visit this month to Amberley, a Year 1-8 school, Prime Minister John Key said its on-site preschool was "where we want to go to achieve more integrated facilities that extend young people's time at school".
All land for new schools includes provision for a future early childhood centre, and the new "super school" proposed for Aranui, in Christchurch, is expected to be preschool to Year 13.
But Mr O'Halloran said the opportunity existed to take the partnership between schools and preschools beyond simply sharing a site.
He spent 12 years as a principal in Queensland, where all Catholic primary schools have introduced preschools (prep schools for 4-year-olds).
At certain times of the day more able preschool students can have a "taster" of Year 1 curriculum.
Those who recently started school and are struggling - often boys - can have sessions in preschool to gain confidence and develop basic learning abilities.
Next month Mr O'Halloran will spend part of a three-month sabbatical studying such systems in Australia. He said such research would only add to discussions about how the Amberley set-up might evolve.
"We are not there yet. But those are the sorts of things that I know the Ministry of Education are starting to look at over here. So we want to have a working model to say, 'Hey, this works'."
Amberley Community Preschool spent $450,000 setting up the new centre, and Mr O'Halloran said he hoped future projects would receive Ministry of Education funding.
Colleen Brown, chairwoman of the Manukau Early Childhood Education Taskforce, which has helped set up several preschools at schools, said regardless of levels of integration, such set-ups were hugely beneficial.
Primary schools in poorer areas often had only a tiny fraction of students with meaningful early childhood education, with many areas simply not having a local provider.