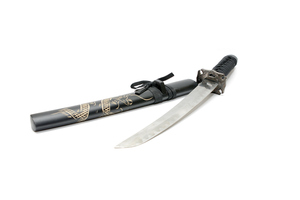 A 31-year-old Masterton man who terrified his mother and threatened police with a Japanese samurai-style sword after taking a cocktail of drugs has been sentenced to nine months' supervision.
Reon Douglas Smith was convicted of possession of an offensive weapon and wilful damage when he appeared in Masterton District Court yesterday.
The charges related to an incident last month where, during a three-hour standoff with police, Smith, armed with a two-handed sword with a one-metre blade, locked the door to keep out police, while he remained inside with his terrified mother.
He frequently swung his sword in an aggressive manner, hitting walls and a door while taunting police.
A police report stated that Smith had been drinking heavily during the evening and steadily became agitated to the point that his mother feared for her safety and called police.
Smith threatened to attack police and cut them with the weapon if they attempted to enter.
Despite regular pleas to open the door, Smith remained inside, extremely agitated, alternately wandering about the house and rushing at the windows striking with the sword as officers tried to communicate with him.
Smith continued to act in such a manner for about three hours. During that time, he rushed into the kitchen area and punched a window, shattering it. He later abruptly opened the kitchen door, allowing police to enter and was arrested.
Police located the sword inside a bedroom wardrobe.
Defence lawyer Frank Minehan said Smith has had a difficult upbringing.
He said Smith, an alcoholic and marijuana addict, committed the offence while under the influence of synthetic marijuana.
"The particular episode, I submit, was a combination of the synthetic marijuana which he hasn't tried before combined with two medications he is on and alcohol.
"He went off his rocket, not for the first time but for the first time with a weapon," Mr Minehan said.
In a previous appearance Smith told presiding Judge Tom Broadmore that K2 synthetic cannabis "twisted my mind".
Smith said he was ashamed of his behaviour and that the K2 Thai High substance he had smoked adversely affected him.
"It's the first time and the last I'll ever touch that crap.
"I didn't want to harm my mother. I couldn't even wish her a happy Mother's Day," he said.
While Judge Michael Behrens spoke yesterday, Smith interrupted to say "excuse me, sir, I could do with a bit of help".
Judge Behrens said although he was pessimistic about Smith because he did not seem able to get rid of his alcohol and drug addiction "you are miles too young to be left without hope".
He said those living close to Smith are scared of him but that he was going to give him a chance.
Judge Behrens sentenced Smith to nine months' intensive supervision, counselling, and ordered him to pay reparation of $200 for the damaged window.
He also issued a protection order at the request of Smith's mother.
For more articles from this region, go to Wairarapa Times-Age