Trial to be closely watched by other councils after string of physical and verbal attacks.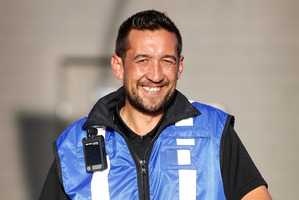 Parking wardens who are being verbally and physically abused are being armed with cameras to curb and capture aggressive behaviour.
Hamilton City Council says the trial of wearable cameras for frontline staff, including parking wardens and animal control officers, is expected to start within three weeks and would likely be closely monitored by councils around the country.
Parking activity manager John Purcell said wardens were the targets of aggressive or anti-social behaviour and the cameras, which fit to a shirt pocket, would enhance their safety.
The $1500 cellphone-sized cameras also record audio and will enable parking officers to capture footage that could be stored for up to six months and used in court.
The push for the technology comes after a number of assaults against Hamilton parking wardens since 2010. In one instance a warden was driven at by a motorist. Others have been punched, tackled, spat on and had water thrown on them.
There was also anecdotal evidence of regular verbal abuse with wardens copping serves from the public - up to 70 times a day in total.
"They sort of turn off to it quite a bit except for the ones where someone is absolutely right in their face - they just try not to listen to it and carry on," said Mr Purcell.
Figures released to the Herald showed Auckland parking wardens were subjected to less verbal abuse than their Hamilton counterparts - but were much more likely to be assaulted.
Last year there were two physical assaults every month on Auckland Transport parking wardens, while every warden faced an average of five verbal assaults a month.
As a result, Auckland Transport now spends $22,000 a month on security guards to accompany parking wardens on late-night ticketing forays.
Auckland Transport spokesman Mark Hannan said physical assaults ranged from a poke in the chest and being pushed to the ground to "strong physical contact" resulting in injury to the officers.
"Most of the physical assaults are random acts by the recipient of an infringement and are retaliations after the fact as an officer walks away," he said.
Mr Purcell said the use of the wearable cameras was widespread throughout Britain and in some cases had resulted in a 65 per cent reduction in serious assaults.
He said the cameras would be in use during "any contact and discussions with members of the public" and he was confident they could work within privacy laws.
A standard operating procedure was being created so the public knew when they were in use.
Wardens would not be able to tamper with any footage, Mr Purcell said.
Braving abuse part of his day
He's had things thrown at him, people spit at him and others drive on to the footpath to get in his face and yell abuse at him.
But Stuart loves his job as a Hamilton parking warden and says people underestimate their role in society.
Stuart, who asked not to have his surname revealed for safety reasons, said he experienced "about 10" instances of abuse every day from disgruntled motorists whose cars had been ticketed.
He's been in the job for a year and came close to being assaulted for the first time when someone he had ticketed drove up on to the footpath, hopped out of his car and "got straight in my face". "A policewoman who saw ... wanted me to press charges. I didn't.
You hear people telling you to get a real job, others tell you to eff off and even people who are just walking past and you haven't even ticketed them usually have something to say too," he said.
"It's a job that I actually really enjoy doing but sadly the actions of some people can affect how you go."
Stuart said new cameras being trialled by the Hamilton City Council for its wardens would protect both those using it and the public.
A trial of the camera technology starts in the next three weeks and could only be a good thing, he said.
"All I want to do is do my job safely. It's one of those roles that does attract negative attention from people but people don't realise that if we weren't there no one would be able to find a park."