Police still urging older citizens not to let their guard down after man charged.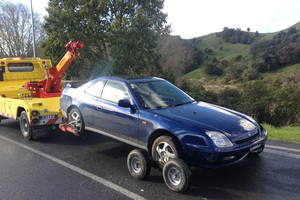 The victim of a brutal home invasion attack is "very, very pleased" to hear an arrest has been made and is keen to return home.
The 74-year-old was staying with family while she recovered from the attack in Pakuranga on Saturday but hoped to go back to her council unit as soon as police were finished there.
"She is definitely wanting to get back home. Mum is quite staunch and very independent, very strong. She is coping very well, considering," daughter Sylvie van de Geer told the Herald yesterday.
"She shouldn't have to go anywhere else. That is her home, why should she move? Taking her from her home, her community ... I don't think that's right."
She said her mother was robbed of "every penny" she had.
Police investigating that attack and a spate of home invasions targeting elderly women yesterday arrested a man, William John Murphy. But they have reiterated that elderly people should remain vigilant.
A warrant to arrest Murphy, 36, was issued on Sunday after police identified him as a "key person of interest" in their investigation into the series of robberies involving elderly women in their homes.
Murphy has been charged in relation to one incident as the police investigation continues. Police described Murphy's arrest as "significant" but were still urging older citizens not to let their guard down. "The investigation still has a long way to go and it's important people keep an open mind," Detective Inspector Karyn Malthus said.
"We remain concerned about the safety of our elderly being targeted and are yet to determine the identity of the offender purporting to be a police officer in various guises. We therefore urge communities to be cautious about cold-callers and to remain vigilant about personal security."
Police had earlier released an image taken from bank security footage of a man using a bank card stolen from a 79-year-old woman during a robbery in Westmere.
Murphy was arrested after a dramatic escape attempt on Auckland's Northern Motorway about 8am yesterday. Police found him hiding in the Puhoi River after he allegedly crashed a stolen car just north of the Northern Motorway toll tunnel.
He will appear in the Auckland District Court today on two charges.
Murphy's family in Northland were reluctant to speak about him. "We don't want to know anything about it," said a male relative.
Timeline
Thursday: Police release a photo of a man they want to speak to in relation to the robbery of an elderly woman in Westmere
Saturday, 8pm: A 74-year-old is assaulted in her Pakuranga home and robbed of cash and bank cards
Sunday, 8am: A member of the public alleges William Murphy is the man in Thursday's picture
Sunday afternoon: Police say Murphy is the man in the photograph and obtain a warrant for his arrest
Sunday, 4pm: Police release Murphy's name publicly and say he is a "key person of interest" in their investigation
Monday, 8am: Murphy is arrested