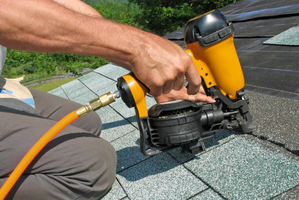 An Auckland roofing company fined $18,000 after a worker seriously hurt himself when he fell from a two-storey building, has had the fine more than tripled on appeal.
The fine was increased to $60,000 by Justice Ailsa Duffy at the High Court in Auckland, who said the company was lucky not to be paying more.
Eziform Roofing Products Ltd was prosecuted by the Department of Labour after one of its workers fell more than five metres from a roof and suffered multiple fractures and spinal damage in 2011.
He lost his footing while standing on the edge of the roof and fell 5.5 metres while holding onto the shoulders of a colleague who was trying to squeeze oversized guttering into place.
The man now suffers a permanent limp, and has bladder and bowel control difficulties. He is unlikely to ever work again as a roofer.
Eziform pleaded guilty at the North Shore District Court to failing to keep the worker safe, and was ordered to pay reparation of $40,000 and a fine of $18,000.
The sentencing judge Pippa Sinclair found that practicable steps had not been followed by Eziform to ensure its employees were not exposed to the risk of falling from a height.
The company should have used scaffolding and they also failed in not providing proper safety training to the man and his colleague.
However, Judge Sinclair took into account the injured man's actions, which she described as "foolish''.
She adopted a starting point of $60,000 for the fine and decreased it to $18,000 because of the company's remorse, its efforts in improving safety procedures and because it was suffering financially.
Justice Duffy said Judge Sinclair's starting point of $60,000 was too low as that put the company at the lower end of culpability, when it should be in the medium to high range of culpability.
It was the type of risk that could, depending on how the man fell and struck the ground, have resulted in his death, Justice Duffy ruled.
She also said it was wrong to take into account the man's carelessness because that could allow employers to rely on the injured employee's carelessness or foolishness to mitigate their culpability.
The original $18,000 fine was "manifestly inadequate'' and should have been set between $60,000 and $70,000, she said.
She increased the fine to $60,000 because as it was an appeal, the substituted amount needed to be at the minimum amount to remedy the inaccuracy, Justice Duffy said.
"Had I been the first instance sentencing judge, the fine would have been set at a higher level than that,'' she said.
- APNZ