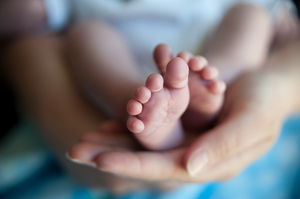 A newborn girl needed neurosurgery after serious "failures" led to her not being given vitamin K, an investigation has found.
Vitamin K helps the blood to clot; babies do not have enough of it so are routinely given an oral dose or an injection into muscle - if their mothers consent.
Days after her birth in 2010, the baby had a craniotomy, in which a flap of bone is temporarily removed from the skull, to take out blood that had pooled in a haematoma on the surface of her brain.
Health and Disability Commissioner Anthony Hill said in a decision following his investigation that the midwife, whom he did not name, failed during the pregnancy to discuss vitamin K with the mother.
The mother went into labour with her first child on a Thursday and had a rapid delivery in hospital after which she was taken to an operating room for removal of the placenta and suturing of tears under anaesthetic.
The midwife asked the father if he agreed to the baby having vitamin K, but he was unsure and asked to defer the decision until his wife returned.
The midwife - in her first year of independent community practice following a new-graduate programme at a district health board - did not raise the matter again while the mother and baby were in hospital, and the woman was discharged on the Saturday.
On the Sunday during a home visit, the midwife said she would get vitamin K from the hospital and, on the Monday, said she would pick it up and bring it the next day.
By the Tuesday morning the baby was lethargic, not feeding, had "bright yellow jaundice" and had lost 10 per cent of her birth weight. She was admitted to hospital that day with neonatal jaundice. She was also anaemic and had high sodium levels.
"It was found that Baby B had suffered a large right cerebral haemorrhage and, on Tuesday evening, she was transferred to a paediatric intensive care unit," Mr Hill said. "Baby B required an urgent craniotomy and evacuation of a subdural haematoma."
The baby recovered and by this year was reported by her mother to be a "thriving, happy young girl". The only ongoing problem attributed to the bleed was a lazy eye, as the bleeding had been close to the right optic nerve.
Mr Hill said it was the responsibility of the lead maternity carer - in this case the midwife - to ensure the parents were aware of the recommendation that all babies received vitamin K. He has referred her to his office's independent prosecutor for a decision on whether to take disciplinary proceedings against her.
The Midwifery Council had completed a competency review and had stated the midwife was now competent to practise, Mr Hill said.
She had quit self-employed midwifery and now worked for a hospital.
"This case affected me profoundly," she said, "and I have continued to reflect daily in my practice on the need for good communication and documentation."
Auckland University neonatal specialist Dr Malcolm Battin said, "Vitamin K is a very important part of perinatal care. It has been given as a routine for a long time now."
He said the treatment was safe and one study's suggestion of a link to childhood cancer 20 years ago had been discounted.